Past Events

Mar. 30, 2010
- Calgary, Alberta
multiDialogue
-
This thought leader forum focused on wind power and cogeneration in Alberta.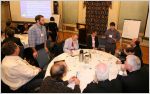 Carbon Capture and Storage
Thought Leader Forum by the Pembina Institute and the Institute for Sustainable Energy, Environment, and Economy
Nov. 10, 2008
- Calgary, Alberta
multiDialogue
-
This national, collaborative forum brought together the public and private sectors, academics, and experts from environmental non-governmental organizations to discuss and debate critical CCS policy questions.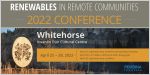 -
conference
- Public event
RiRC 2022  — rescheduled from 2020 — will make further progress in understanding the full financial costs of both clean energy and diesel-based systems, and identifying key steps necessary to tip the scale towards making clean energy systems financially competitive and further accelerating economic opportunities for Indigenous communities and the clean energy sector.