Upcoming Events

May. 12, 2021 to May. 13, 2021
- Vancouver, B.C.
conference
- Public event
The Pembina Institute is proud to be a strategic partner for the Retrofit Canada Conference.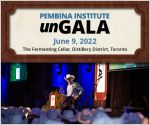 unGALA 2022
Celebrate the power of Canada's clean growth economy
Jan. 27, 2022
- Toronto, Ontario
fundraiser
-
The Pembina Institute is happy to welcome back the unGALA in January 2022. Pembina Institute's unGALA celebrates the power of a clean energy future that drives a prosperous, connected Canadian economy.