Upcoming Events

May. 13, 2021 to May. 14, 2021
- Vancouver, B.C.
conference
- Public event
The Pembina Institute is proud to be a strategic partner for the Retrofit Canada Conference.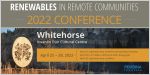 Sep. 21, 2021 to Sep. 24, 2021
- Whitehorse, Yukon
conference
- Public event
RiRC 2021 will make further progress in understanding the full financial costs of both clean energy and diesel-based systems, and identifying key steps necessary to tip the scale towards making clean energy systems financially competitive and further accelerating economic opportunities for Indigenous communities and the clean energy sector.