Upcoming Events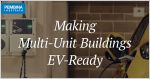 Making Multi-Unit Buildings EV-Ready
How property owners, managers and condo boards can prepare for an EV future
Oct. 17, 2023
- Calgary, AB
workshop
- Invitation only
With the recent and rapid increase in the number of electric cars on the road in Alberta, charging infrastructure will need to keep pace, including in multi-unit residential buildings. Our
Guide to Installing EV Infrastructure in Alberta's Multi-Unit Residential Buildings
provides resources and advice on how building owners, managers and condo boards can prepare for an EV future. In this roundtable, we will discuss the findings and recommendations from the guide.

2023 Alberta Climate Summit
Bringing Albertans together to lead the energy transformation
Oct. 26, 2023
- Calgary, Alberta
conference
- Public event
The Alberta Climate Summit brings thought leaders from industry, government, civil society groups, Indigenous Governments and rural communities together to hear success stories, identify opportunities and challenges, and explore solutions related to Alberta's clean energy future.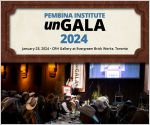 unGALA 2024
Celebrate the power of Canada's clean-growth economy!
Jan. 25, 2024
- Koerner Gardens at Evergreen Brick Works, Toronto, Ontario
fundraiser
-
The Pembina Institute is happy to welcome back the unGALA in January 2024. Pembina Institute's unGALA celebrates the power of a clean energy future that drives a prosperous, connected Canadian economy.