Upcoming Events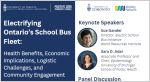 Electrifying Ontario's School Bus Fleet
Health Benefits, Economic Implications, Logistic Challenges, and Community Engagement
Dec. 14, 2023
- Toronto, ON
panel
- Public event
Adam Thorn, director of the Pembina Institute's transportation program, is a guest panellist at a University of Toronto-hosted seminar: Electrifying Ontario's School Bus Fleet: Health benefits, economic implications, logistic challenges, and community engagement.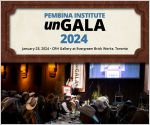 unGALA 2024
Celebrate the power of Canada's clean-growth economy!
Jan. 25, 2024
- Toronto, ON
fundraiser
-
The Pembina Institute is happy to welcome back the unGALA in January 2024. Pembina Institute's unGALA celebrates the power of a clean energy future that drives a prosperous, connected Canadian economy.