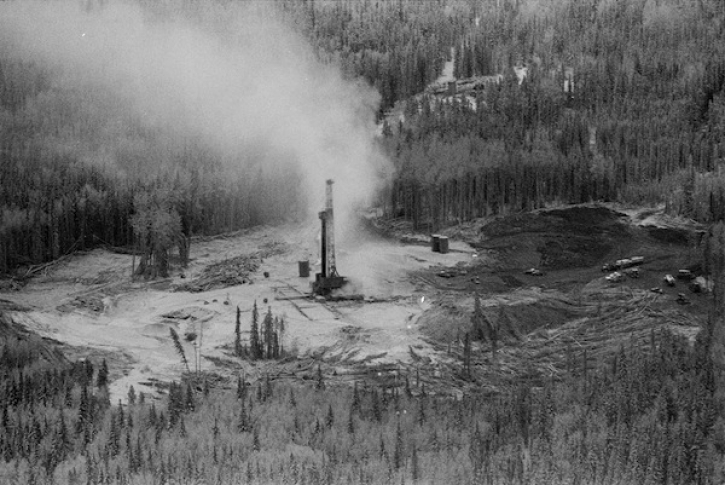 1982 Lodgepole blowout and its legacy
What's in a name?
The name "Pembina Institute" was chosen for the Drayton Valley-based organization to recognize local roots in the Pembina oilfield and along the Pembina River.
Mission and Vision
To advance a prosperous clean energy future for Canada through credible policy solutions that support communities, the economy and a safe climate. The Pembina Institute envisions a world in which our needs are met in ways that protect natural ecosystems; ensure clean air, land and water; stop contributing to climate change; and promote a just global community.
Successes
From the oil patch to our most congested cities, the Pembina Institute has worked with industry, governments, academia, communities and Indigenous peoples to provide research, analysis and policy solutions that protect Canadians. Together we are preparing Canada for the 21st-century low-carbon economy. Learn more
On October 17, 1982, Amoco Canada lost control of a major sour gas well near Lodgepole, Alberta. For nearly two months it spewed 200 million cubic feet per day of deadly hydrogen sulfide sour gas — or poisonous sulphur dioxide when it was on fire — along with toxic condensates. Marked by an unmistakable rotten egg-like smell, the contamination spread across the countryside reaching as far as Saskatchewan. Some residents and livestock were evacuated. Among those who weren't, many fell ill after being exposed to a mix of toxic gases. 
The emergency response by the company and government was completely inadequate, characterized by the denial of responsibility, downplaying of human health and environmental impacts, and failure to protect the community. As a result, more than 200 local residents joined together to form the Pembina Area Sour Gas Exposures Committee.
Leveraging media attention and the weight of public outrage, the group forced a full-scale public inquiry. It secured legal counsel and a budget to hire technical experts and commission studies. Constructive recommendations were developed for the safe conduct of sour gas drilling, blowout prevention and emergency response planning. When the inquiry wrapped up in March 1984, nearly 80 recommendations were adopted by the Energy Resources Conservation Board, various government departments and industry. Over time some of these measures have eroded away, while others have been strengthened — yet most of them remain in place to provide a much safer regime for sour drilling.
From this early success, the Pembina Institute for Appropriate Development was formed in 1984 and incorporated in 1986. The Institute's founders — including Rob Macintosh and Wally Heinrichs — shared interests in peace, human rights, nuclear disarmament, international development, clean technology and the environment. According to Macintosh, they had also learned several important lessons from their work with the public inquiry, including:
The importance of working with other groups, NGO allies and leading provincial environmental activists
How to engage in the environmental debate armed with solid research and technical analysis
That common ground existed with some players in the energy industry who sought higher standards of practice, and could see a bigger-picture competitive advantage to taking public involvement and environmental protection seriously and getting it right
That environmental issues in a community must be balanced with economic and social issues
That change is driven by individual effort — it's ultimately up to us
Early work (1985-1995)
At the beginning, a small staff worked with volunteers to reduce sulphur emissions in gas plants, develop a federal green plan and help create the new Alberta Environmental Protection Act. They also worked on global issues like fighting apartheid. Over time, the Pembina Institute narrowed its focus to energy and the environment by adding technical engineering, scientific and economic depth to the broad policy expertise of the organization. The Institute worked with communities both in Canada and internationally, especially on renewable energy projects and Clean Development Mechanism projects. Corporate sustainability and life cycle value assessment training was a focus of consulting work. The Institute was an important member of the Clean Air Strategic Alliance, working for a comprehensive air quality management system for Alberta.
Growth years (1995-2005)

By the 1990s the Pembina Institute was providing consulting services to clients as wide-ranging as TransAlta Utilities, BC Hydro and Suncor, First Nations, government, and environmental organizations such as Greenpeace and the David Suzuki Foundation. The Institute expanded with new work in the areas of green economics (Genuine Progress Indicators, 2002), climate change (Canadian Solutions: Practical and Affordable Steps to Fight Climate Change, 1998), and nuclear energy (Nuclear Power in Canada, 2006).
The growing environmental concerns associated with oilsands production prompted the Institute's fossil fuel work to focus more closely on the management and regulation of oilsands production (Oilsands Fever, 2005). One notable publication was When the Oilpatch Comes to Your Backyard (originally published in 2001, and revised in 2004), a guide for landowners to oil and gas development on their land. Copies were widely distributed across the province, sometimes by oil and gas companies themselves.
Staff also continued work on renewable energy, collaborating with the Clean Air Renewable Energy Coalition to create the highly influential federal renewable energy incentive program. And Pembina joined the Internet age, making its publications available online at no cost.
Consolidation years (2005-2018)

The Pembina Institute's profile and reach grew rapidly in the new millennium. New offices sprouted in Toronto, Vancouver, Edmonton and Yellowknife with the original administrative unit in Drayton Valley moving to Calgary. The educational arm, Green Learning, grew and eventually became an independent organization. The Institute continued to work with First Nation communities, municipalities and regional governments on energy efficiency and renewable energy, while also providing high-quality life cycle research and sustainable energy solutions for industry.  
The Institute continued to break ground as an oilsands industry watchdog with technical report cards on the impacts of oilsands mining (Under-Mining the Environment, 2008) and the growing prevalence of in situ operations (Drilling Deeper, 2010). A blueprint (Solving the Puzzle) to solving the top environmental challenges facing the oilsands industry was released in 2011 and updated in 2013, followed by a comprehensive overview of progress and ongoing issues in environmental management (Beneath the surface: a review of key facts in the oilsands debate) later that year.
The Pembina Institute supplied technical and policy expertise to Renewable is Doable, a coalition of groups in Ontario that successfully worked to see renewable energy replace nuclear and coal-fired power. Greening the Grid (2009) showed that Alberta could have similar success in replacing its coal power plants.
Work on climate change was extended to examine economic aspects as well, with Climate Leadership, Economic Prosperity (2009) along with a three-part series on the green economy in British Columbia, B.C.'s Green Economy at Work (2010).
Given the growth in carbon pollution from the transportation sector, the Institute began working in the Greater Toronto, promoting expanded public transit and location-efficient development (Live Where You Go, 2012).
In 2015, the Institute organized the Alberta Climate Summit to showcase the latest thinking on climate policy from a variety of stakeholders. This now-annual summit has steadily grown in size and reach, with more than 500 attendees at the 2017 event in Calgary.
Canada's federal 2015 commitment of the Paris Agreement climate deal was followed by its first truly national climate plan, The Pan-Canadian Framework on Clean Growth and Climate Change. The Institute applauded these hard-won policy commitments and has been pushing for effective and efficient implementation, both federally and through provincial actions.
Recent work (2019-)

Today the Pembina Institute has more than 50 staff. We work with businesses, governments, communities, research and non-government organizations on sustainability while maintaining a high profile as one of Canada's most trusted sources of information, policy research and analysis.
On January 1, 2019, the Pembina Institute for Appropriate Development and the Pembina Foundation for Environmental Research and Education merged into a single organization, pursuant to the Canada Not-for-profit Corporations Act. We will continue to operate as the Pembina Institute and are excited for the operational and administrative efficiencies expected from this change.  We will continue to carry out our well-reasoned and non-partisan policy advocacy as a federally registered charity.
For an overview of our current work, see our Issue Areas.