Past Events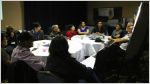 Mar. 29, 2011 to Mar. 30, 2011
- Yellowknife, Northwest Territories
workshop
-
Mitigating and adapting to climate change impacts will be critical for the well-being of Northwest Territories communities in the future. The Climate Change and Communities Forum was an opportunity for municipal leaders and staff to provide information, share knowledge and promote regional action to help address climate change effects in Northwest Territories communities.

Mar. 30, 2010
- Calgary, Alberta
multiDialogue
-
This thought leader forum focused on wind power and cogeneration in Alberta.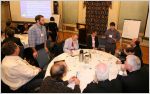 Carbon Capture and Storage
Thought Leader Forum by the Pembina Institute and the Institute for Sustainable Energy, Environment, and Economy
Nov. 10, 2008
- Calgary, Alberta
multiDialogue
-
This national, collaborative forum brought together the public and private sectors, academics, and experts from environmental non-governmental organizations to discuss and debate critical CCS policy questions.