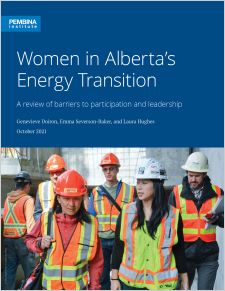 Like many economies around the world, Alberta's is undergoing a profound change. While the province continues to navigate the global COVID-19 pandemic, its economy is also responding to the global energy sector trends including fluctuating commodity prices, shifting consumer choices to clean energy, and international action on climate. In the last two years alone, $2 billion has been invested into renewable projects and the majority of Alberta's biggest oil and gas producers have committed to net-zero carbon emissions by 2050. As Albertans invest in the province's emerging energy economy, there is an important opportunity to design a future that creates an equitable workforce. In particular, it is critical that gender inequities from the current energy sector are not perpetuated.
Climate change has a disproportionate impact on women, and COVID-19 has also resulted in greater rates of unemployment for women than men. Despite these concerns, the traditional energy sector is still one of the least gender-inclusive sectors to date; and the renewable energy sector has only a slightly higher rate of workforce participation of women in comparison. The continued under-representation of women in both the traditional and renewable energy sectors demonstrates the prevalence of many structural and cultural barriers facing women throughout their careers in Alberta's energy industry.
This review examines barriers to women's participation and leadership in Alberta's emerging and traditional energy sectors. We identify five key barriers:  
Lack of access to opportunity
Lack of good jobs
Inability to advance
Income gap
Industry culture
While this research is by no means a comprehensive review of all the challenges and barriers, it provides a foundation to begin to address the main systemic barriers causing gender inequity in Alberta's energy sector. Our province's emerging renewable energy industry has the opportunity to understand, mitigate, and remove these barriers at an early stage, thus supporting an equitable transition for our energy sector. We urge industry representatives from both the traditional and emerging energy sectors, as well as government policymakers, to consider how they may address these barriers when designing or updating diversity and inclusion initiatives and policies. To learn more about our findings, read the full report.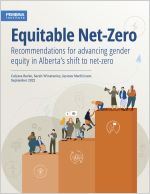 Read our 2022 follow-up report, Equitable Net-Zero, for recommendations on actions to dismantle existing obstacles to participation, along with our blog about the follow-up event.
Read more about all of our Women in Energy Transition work.


The Pembina Institute would like to thank Women and Gender Equality Canada and the McConnell Foundation for their generous support.