Canada has an opportunity to include everyone in our emerging energy economy.
As we strive to drive down carbon pollution across our nation's economy, Canada's energy systems will undergo transformative change. These unique times of post-pandemic investment present an invaluable opportunity to purposefully rebuild in a sustainable way that includes everyone.
Women provide a critical perspective.
Across Canada, women are leading a movement to address more than just the technical problem of how we produce energy. They are tackling climate change in innovative ways that consider how changes in our energy systems will impact society. Who will have jobs in the emerging energy economy? Who might be left behind? And how will our new energy systems avoid repeating mistakes?
By asking and answering these questions, women are driving the energy transition toward a climate-safe future that will diversify Canada's economy, ensure we produce no more greenhouse gases than we store (net-zero emissions), and provide equitable opportunities to people from all walks of life.
Our work
The Pembina Institute is listening to and elevating women's voices to inform a net-zero future that works for everyone in Alberta. Our team is conducting research and convening women to identify and discuss barriers and solutions, all with the goal of enhancing the participation and leadership of women in the net-zero transition. Inclusive gender representation in the net-zero transition is but one essential step toward addressing the uneven societal impacts of climate change.
Identifying barriers and solutions.
We are currently researching barriers that women face in Canada's net-zero transition, focusing on those that affect their participation and leadership in Alberta's traditional and emerging energy sectors. We published our first gender equity report - Women in Alberta's Energy Transition: A review of barriers to participation and leadership - in October of 2021, which provides a deep dive on the biggest barriers present in both the fossil fuels- and renewables-based energy sectors.
Join us for a national dialogue.
The Pembina Institute has partnered with GLOBE Series to host a series of events on women's role in the energy transition in Canada.
Learn more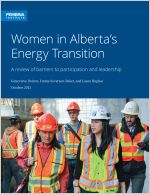 Women in Alberta's Energy Transition
A review of barriers to participation and leadership
During a time of shifting global energy trends, Alberta's energy industry is also changing. The transition toward renewables provides an opportunity to purposefully create a net-zero energy economy for the province that includes and benefits everyone. This report examines drivers of gender inequity in Alberta's traditional and renewable energy sectors to help inform the policy and cultural shifts needed to ensure an equitable future for women in energy.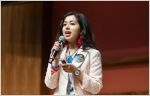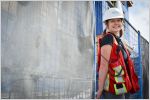 Our partners
| | | | |
| --- | --- | --- | --- |
| | | | |
The Pembina Institute wishes to thank Women and Gender Equality Canada and the McConnell Foundation for their generous support.
Stay updated
Sign up for the Pembina Institute's newsletter below to receive updates on our gender equity events, reports, and resources.
Banner image: Rae-Anne Wadey installing solar panels. Photo: David Dodge, Green Energy Futures