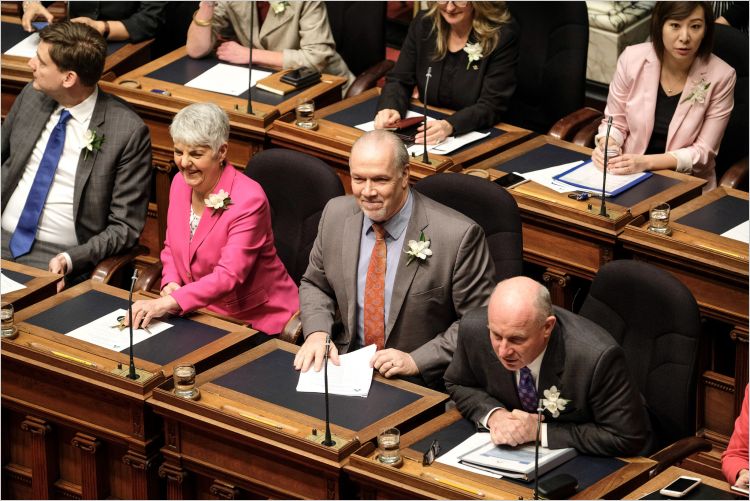 VANCOUVER / MUSQUEAM, SQUAMISH & TSLEIL-WAUTUTH TERRITORIES — Karen Tam Wu, B.C. director at the Pembina Institute and a member of B.C.'s Climate Solutions and Clean Growth Advisory Council, made the following statement today in response to the B.C. government's 2019 speech from the throne:
"With its positive vision of B.C.'s clean future, the 2019 throne speech is an encouraging signal of the province's intention to prioritize the CleanBC plan. Next week, the budget will constitute an important litmus test of the government's commitment to clean growth and climate solutions. We are looking for a budget that supports full implementation of CleanBC, including significant investments in building the clean economy.
"CleanBC plots a course to getting 75 per cent of the way to B.C.'s 2030 target for reducing heat-trapping carbon pollution — while seizing the opportunities of clean energy, innovation, and jobs. Prioritizing funding for CleanBC initiatives in this year's and subsequent budgets is critical for turning ambition into action. The industrial sector is responsible for 40 per cent of B.C.'s carbon pollution and, therefore, a sector where we need to achieve substantial emissions cuts — especially in light of the imminent birth of a liquefied natural gas export industry. We still expect to see a complete roadmap to ensure we hit 100 per cent and don't fall short of our goal. 
"To safeguard progress and ensure the enduring success of CleanBC, it will be crucial for the province to clearly demonstrate the link between investments and resulting pollution reductions. As part of climate accountability measures, we expect to see an independent panel mandated to track and publicly report on this annually.
"British Columbians want B.C.'s future to include healthy families, safe communities, and a prosperous economy. By renewing B.C.'s climate leadership, the government can position B.C. to provide the goods and services needed in a low-carbon world, make clean choices more affordable and accessible, protect our families and communities from climate change, and grow clean jobs and attract global investment."
Quick facts
B.C.'s carbon pollution in 2016: 62.3 million tonnes (Mt CO2e).
Projected pollution in 2030 under CleanBC measures: 44.8 Mt.
Legislated target for 2030: 38.2 Mt.
By sector, industry is responsible for 40 per cent of B.C.'s carbon pollution, transportation for 38 per cent, and buildings and communities for 22 per cent.
The gas industry is the source of one-fifth of B.C.'s carbon pollution. Methane emissions from the gas industry represent one of the most effective and cost-efficient opportunities to reduce carbon pollution.
To meet its 2050 climate target, the Pembina Institute estimates B.C. needs to retrofit 30,000 houses, 17,000 apartment units, and 3 million square feet of commercial space each year between now and then. This megaproject could create 10,000 sustainable jobs across the province and generate $4–8 billion in economic growth.
-30-
Join the conversation on Twitter: #CleanBC @Pembina
Contact
Stephen Hui
Communications Lead, Pembina Institute
778-987-7654
stephenh@pembina.org
Tw: @StephenHui
Background
Op-ed: Three checkpoints on B.C.'s climate marathon in 2019
Media release: Construction sector welcomes B.C. climate plan as good for business
Media release: B.C. businesses: New climate plan will boost clean economic growth
Backgrounder: Limiting Methane Pollution from B.C.'s Gas Sector
About the Pembina Institute
The Pembina Institute is a non-profit think-tank that advocates for strong, effective policies to support Canada's clean energy transition. We have offices in Vancouver, Calgary, Edmonton, Toronto, and Ottawa. Learn more: www.pembina.org