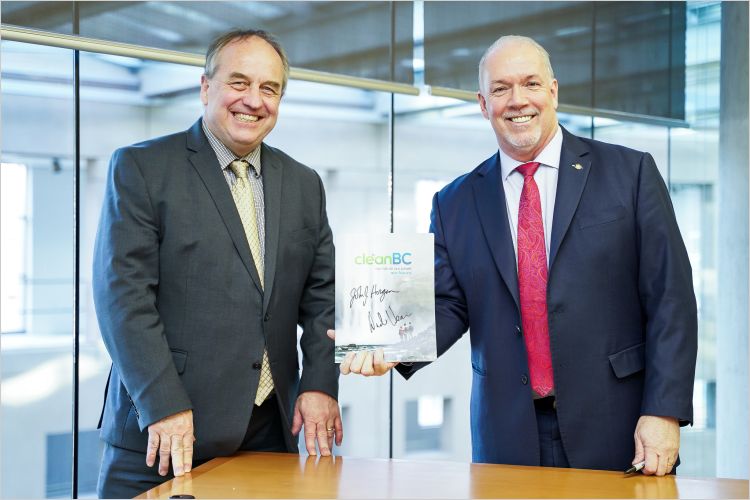 VANCOUVER / MUSQUEAM, SQUAMISH & TSLEIL-WAUTUTH TERRITORIES — Five leaders in British Columbia's corporate sector are applauding the B.C. government for laying out a bold vision for clean economic growth in the province.
Today, Arc'teryx, Climate Smart Businesses, Innergex Renewable Energy, the Insurance Bureau of Canada, and Vancity issued statements welcoming the province's new climate plan as a bold step toward securing a prosperous, low carbon future for B.C.
These prominent companies and organizations are the founding partners of Businesses for B.C.'s Clean Economy, a new initiative of the Pembina Institute. They operate in the apparel, social enterprise, energy, and finance sectors.
Together, they support the B.C. government taking the following measures to build out the clean economy:
Position B.C. to provide the goods and services needed in a low-carbon world
Make clean choices more affordable and accessible
Protect our families and communities from climate change
Grow clean jobs and attract global investment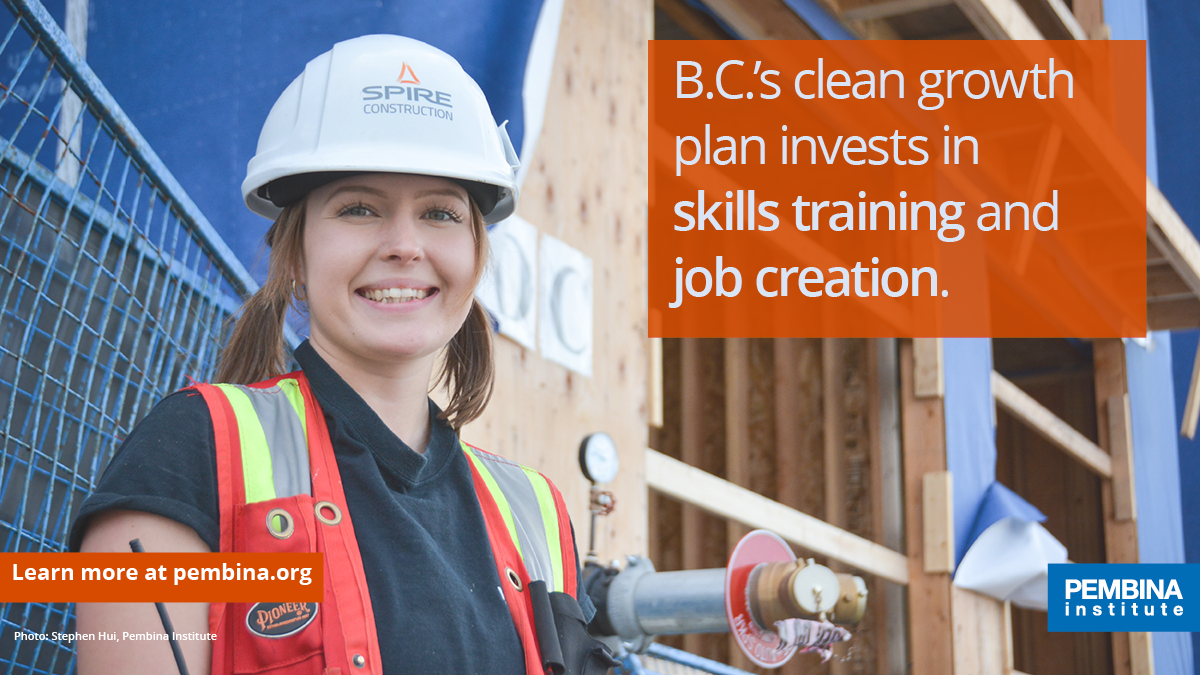 Quotes
"Arc'teryx has a vested interest in smart action on climate change. Protecting the outdoors throughout all seasons is central to our business, core activities, and community. Our competitiveness also depends on effective action on climate change, which is outlined in the new B.C. climate plan. These steps towards a clean economy make us proud to be headquartered in British Columbia."
— Jon Hoerauf, president and general manager, Arc'teryx
"This plan reveals businesses as lead drivers in British Columbia's transition to a prosperous clean economy. The companies we've worked with have significantly shrunk their carbon footprints while saving a combined $4.5 million a year in operating costs."
— Elizabeth Sheehan, president, Climate Smart Businesses
"The clean economy isn't just about the environment and business; it's also about people. We're pleased to see the CleanBC plan prioritizing electrification as it is the best path forward to achieving GHG reductions in the province, and Innergex is poised to support the ongoing build-out of the clean electricity supply. Done right, this transition to using more renewable energy can ensure that climate action brings economic benefits to Indigenous and local communities across British Columbia."
— Colleen Giroux-Schmidt, vice president for corporate relations, Innergex Renewable Energy
"Climate change is a clear and present danger that increasingly impacts British Columbians and all Canadians. Insured losses due to extreme weather now exceed $1 billion annually across the country and, as evidenced by the impact that floods and wildfires had across the province this year, B.C. is not immune to these trends. IBC commends the government for today's renewed commitment to climate action and looks forward to B.C.'s renewed climate adaptation strategy in 2019."
— Aaron Sutherland, vice president for the Pacific region, Insurance Bureau of Canada
"With half a million members, Vancity is Canada's largest community credit union. Our members care deeply about environmental sustainability and climate action. This climate plan will improve access to low carbon buildings and electric vehicles and rebates for home retrofits."
— Tamara Vrooman, president and chief executive officer, Vancity
"B.C.'s new climate plan signals an exciting vision for a clean economy. In just over 10 years, all new homes and buildings will be low carbon. In just over 20 years, all new cars sold will be zero emissions. Going forward, we will generate more clean electricity and renewable fuels, and burn less oil and gas. B.C.'s climate strategy brings hope for all Canadians concerned about the wellbeing of their families and communities."
— Karen Tam Wu, B.C. director, Pembina Institute
-30-
Join the conversation on Twitter: #CleanBC
Contact
Stephen Hui
Communications Lead, Pembina Institute
778-987-7654
stephenh@pembina.org
Tw: @StephenHui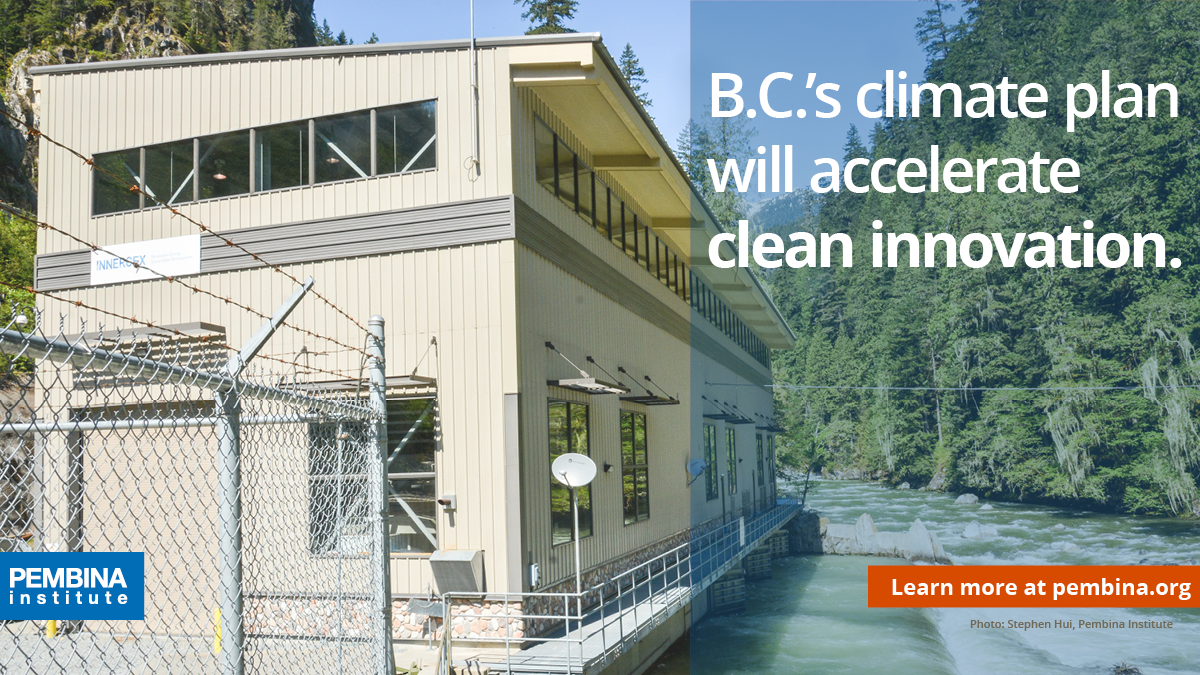 About us
Businesses for B.C.'s Clean Economy is a network of leading B.C. businesses and organizations aligned behind a vision for a clean and prosperous economy and climate action. We believe that strong climate and energy policy provides certainty and is good for business.
Arc'teryx is a global design and manufacturing company based in North Vancouver, Canada, specializing in technical high-performance apparel, outerwear and equipment. Our products are distributed through more than 3,000 retail locations worldwide, including 33 owned brand stores globally.
Climate Smart Businesses, an award-winning certified B Corp, has developed a practical and solutions-based program specifically for small and medium-sized businesses (SMEs) to profitably track and reduce greenhouse gas emissions. Since 2007, Climate Smart has helped close to 1,000 businesses and 40 partner cities and organizations prepare for and participate in the low-carbon economy.
Innergex Renewable Energy is a renewable energy company that develops, acquires, owns, and operates hydroelectric facilities, wind farms, solar farms, and geothermal power generation plants. Innergex is a Canadian company with a global portfolio currently consisting of interests in 68 operating facilities across five countries with an aggregate net installed capacity of 2,091 MW (gross 3,072 MW), including 22 operating facilities with a net installed capacity of 604 MW (gross 990 MW) in British Columbia.
The Insurance Bureau of Canada (IBC) is the national industry association representing Canada's private home, auto and business insurers. Its member companies make up 90% of the property and casualty (P&C) insurance market in Canada.
Vancity is a values-based financial co-operative serving the needs of its more than 525,000 member-owners and their communities in the Coast Salish and Kwakwaka'wakw territories, with 59 branches in Metro Vancouver, the Fraser Valley, Victoria, Squamish, and Alert Bay. With $26.4 billion in assets plus assets under administration, Vancity is Canada's largest community credit union.
The Pembina Institute is a non-profit think-tank that advocates for strong, effective policies to support Canada's clean energy transition. We have offices in Vancouver, Calgary, Edmonton, Toronto, and Ottawa.