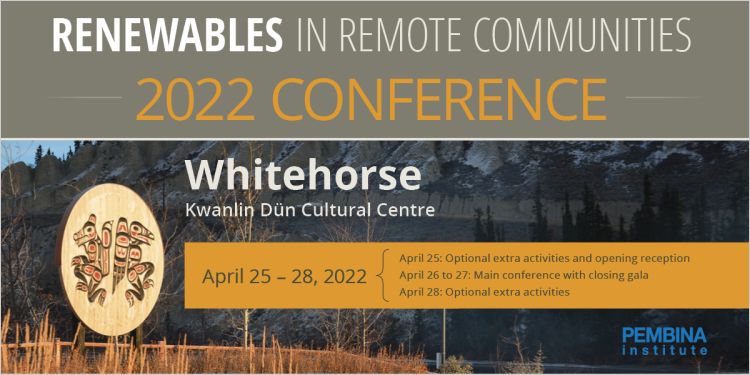 Renewables in Remote Communities
2020 Conference
---
Oct. 6, 2020

8:00am

to Oct. 9, 2020

5:00pm
Kwanlin Dün Cultural Centre, Whitehorse, Yukon
conference
- Public event
---
Advancing the business case for clean energy in remote communities
* CONFERENCE POSTPONED to October 6 – 9 *
Conference details
This conference will look at the financial solutions, energy policies, and regulations necessary to further accelerate the transition of clean energy in remote communities across Canada to prioritize Indigenous-owned and led projects. This will also address market transformation and financial investment and collaborative models to attract public, private, social and impact investments.
Overview
RiRC2020 is a four-day event at the Kwanlin Dün Cultural Centre in Whitehorse, Yukon from October 6 to 9, 2020. The two-day main conference, supplemented by activities on the pre-conference and post-conference days, focuses on the collaboration and financial solutions necessary to further accelerate the transition of clean energy in remote communities across Canada while prioritizing Indigenous-owned and led projects.
Research on market transformation, innovative financing mechanisms and collaborative funding models, energy policy, national diesel reduction trends, project costing and diesel subsidies will be provided before the conference to facilitate discussion and collaboration.
The two-day main conference event (Wednesday, October 7 and Thursday, October 8) will feature presentations, panel discussions and group table discussions, with participants sharing recent progress of clean energy projects. Participants will explore how good energy policy — and stable policy environments — can attract private sector investments that complements government funding to support the acceleration of the clean energy transition using market-based approaches and investment from a variety of sectors. This further opening and incorporation of private sector investments in remote clean energy projects is necessary to increase project marketability and must continue to prioritize Indigenous partnership and leadership.
The pre- and post-conference days will offer an opportunity for Indigenous leaders, project proponents, clean technology companies, academia research, government and individuals to host more intimate discussions and give presentations on topics put forth. Sessions will be held at the Kwanlin Dün Cultural Centre.
The pre- and post-conference days will also provide open space for networking, connecting with peers, clean technology companies and discussions in the Longhouse room throughout the day.
Conference objectives
Recognize and celebrate the successes of Indigenous-led clean energy projects and learn where remote communities are on their path to decarbonization and clean energy transition.
Deepen our understanding of market innovation, market-based solutions, and how the clean economy across Canada (and internationally) is attracting private investment and what is needed to bring these solutions further to remote communities.
Explore how better financial approaches, funding models, energy policy, UNDRIP, Indigenous utility ownership and regulations can accelerate clean energy deployment by finding the right conditions for private investment to complement government funding and strong policy.
Learn about diesel and energy subsidies and how to make the economic case to transition to clean energy more compelling.
Agree on feasible next steps and develop a Working Group that will continue to push for good policies and solutions to increase investment opportunities and build Indigenous leadership in the clean energy sector.
---
Research
The RiRC2020 conference will be guided by several research pieces that will be completed and distributed before the conference. These will provide useful input into key concepts that will influence the conference discussions.

Market transformation and opportunities — analysis of market conditions in remote community clean energy projects. What is driving this transition? How can private, social and impact investment opportunities support Indigenous-led clean energy projects? How can government investment and policies support significant transition?

Diesel reduction progress — analysis of how clean energy can — and has — reduced diesel use for both heat and power. How far have we come, how far do we have to go and how is our progress tracking in relation to our Canadian commitments to greenhouse gas reduction?
Clean energy project costs — cost analysis of past and current clean energy projects in remote communities. What trends do we see for different technologies and solutions?

Levelized cost of energy — analysis of the levelized economic cost of energy for both diesel and clean energy systems (full replacement or hybrid micro-grid development). How do they compare?
Diesel subsidies — thorough analysis on diesel subsidy policies in a few specific regions. How do these subsidies affect the full costs of diesel energy systems and what needs to happen to untangle them while protecting energy costs?
---
Registration

If you have any questions regarding registration, please contact Nadin Abuhalaweh at nadina@pembina.org. 
---
Program (Preliminary)
The two-day main conference will be supplemented by activities on the pre-conference and post-conference days.
October 6 (Pre-conference day) sessions
Aurora College: Manufacture and use of cardboard fuel pellets in Inuvik, NT
Schneider Electric: Efficient fuel-saving controls for off-grid microgrids
Emergya Wind Technologies: Distributed wind for remote cold-climate communities
Hatch and Kluane Development Corp: Renewable energy project process: A case study with Kluane Community Development Corporation
Intelligent Energy Systems: From the frontier to the future or transitioning to 100% renewables
Future Proof My Building Consulting: Preventing mold in northern housing using solar air heating
QUEST: Benchmarking for community energy planning
EcoTrust Canada: Moving toward energy security in rural, remote and Indigenous communities
Louis Bull Tribe: Utilizing non profit organization status to access funding to develop energy projects
Yukon Conservation Society: Electric thermal storage in the North
Natural Resources Canada / CanmetENERGY: Project costing of clean energy projects in remote communities
Government of Yukon - Energy Branch: Yukon First Nation energy capacity development project
Indigenous YouthBuild Canda: Indigenous Youthbuild Canada: A social enterprise job readiness program
Green Cat Renewables Canada Corp: Renewables in Remote Communities: A how to guide
Nergica: Validating microgrid modelling techniques through field data
Government of Yukon - Energy Branch: "RE the North!" … toward a tri-territorial community energy "hive mind"
Community Foundations Canada: Growth of social finance and the Investment Readiness Program for Indigenous Social Entrepreneurs
Natural Resources Canada / CanmetENERGY: Strategy for successful implementation of low-carbon renewable bioenergy projects for remote and rural communities
NunatuKavut Community Council: Highlighting success stories in inuit research governance, energy planning, and capacity building: sustainable energy leadership in NunatuKavut, Labrador
Coady Institute, Pembina Institute and Indigenous community representatives: Energy-focused-Asset Based Community Development
University of Alaska-Fairbanks: Renewable energy dispatch for food, energy, and water security in remote Alaska villages
Government of Yukon - Energy Branch: Government of Yukon renewable energy incentives – a success story
The full program (with sessions times) for the parallel pre- and post-sessions will be coming soon.
October 7-8 Conference
October 9 (Post-conference day) sessions
Community Power: Path to action: A story of an integrated approach to climate, energy, training and housing
Jobb Developments: Kinoosao clean energy project
Yukon College: Northern energy innovation: Year 4 in review
YAB Management: Use of torrefied wood pellets to heat buildings in East Canada's Northern communities
Youth Climate Lab: Youth engagement in remote communities renewable energy projects
Three Nations Energy: Three Nations Energy Fort Chipewyan: Indigenous owned remote community large scale solar
Natural Resources Canada: Indigenous Off-Diesel Initiative
Conseil de Développement Économique des Territoires du Nord-Ouest: The Northern building retrofit economy
Peavine Metis Settlement: Peavine Metis Settlement community solar farm project
Tim Weis, University of Alberta: Micro-grid wind modelling opportunities
WWF Canada: Renewable energy scoping analysis for Nunavut
Natural Resources Canada: Remote communities energy database design workshop: Shaping policy through data
Government of Yukon: Renewable energy in Government of Yukon buildings
Da'naxda'xw First Nation and Xeni Gwet'in First Nation: Challenges and opportunities: Lessons learned from the Da'naxda'xw First Nation and Xeni Gwet'in First Nation solar-diesel microgrid projects
Williams Engineering: Building an energy pyramid: a strong foundation for renewables
Three Nations Energy: Sustainable food production
ORPC: Yupik community project
Green Arrow Corp: On-reserve renewable energy utility scale - Our story
Public Services and Procument Canada: IDEaS: Innovation for Defence Excellence and Security
Nergica: Is wind power a real alternative to fossil fuels on Canadian isolated communities?
The full program (with sessions times) for the parallel pre- and post-sessions will be coming soon.
---
Advisory Committee
For this year's conference, we are pleased to be working with our six-person Indigenous Advisory Committee that brings years of insight and combined knowledge on clean energy development in Indigenous communities.
Michelle Myers
Michelle Myers is from Xeni Gwet'in First Nations, one of six Tsilhqot'in communities that make up the Tsilhqot'in National Government. She is a mother, aunt, and sister and was selected as one of two Women Council Members for Xeni Gwet'in. She works remotely in her community as a Project Coordinator for Barkley Project group and has vast experience in community engagement.
Michelle has a Bachelor of Arts in Native studies, a Certificate in Aboriginal Governance and Partnership from the University of Alberta and was trained through the 20/20 catalyst Indigenous clean energy program. Her passion is to bring a multi-faceted approach to Indigenous community engagement, education, and capacity development and she is always looking for routes to reconnect indigenous womyn's bodies to the landscapes.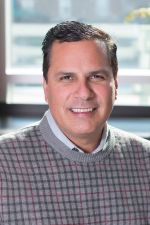 Darrell Brown
Darrell Brown is a Cree business owner based in Winnipeg. Darrell is President of Kisik Clean Energy and Kisik Commercial Furniture. He is a 2004 founding member and current chair of the Aboriginal Chamber of Commerce based in Manitoba.
He holds an Advanced Diploma in International Business from Red River College in Manitoba and a Certificate of Indigenous Leadership, Governance and Management Excellence from the Banff Centre. Darrell holds the designation of ICD.D from The Rotman, Directors Education Program through The Institute for Corporate Directors. Darrell also holds a certificate in the 20/20 Catalyst program focusing on the Indigenous Renewable Energy Sector. Darrell is the newly elected chair of the Indigenous Clean Energy Network, a social enterprise to advance renewable energy for indigenous people across Canada.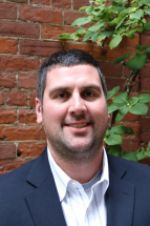 Paul-Emile McNab
Paul-Emile re-joined the Canadian Council for Aboriginal Business as Director, Business Development and Strategic Initiatives on October 31, 2016. Prior to that, he was active in the field of Research, Consulting and Business Development for fifteen years. In 2007, he completed his honours degree in History, Political Science and Canadian Studies at the University of Toronto. In 2010, he completed his Masters in Environmental Studies at York University with a focus on Indigenous knowledge and a Major Research Paper titled The Traditional Rights of Ways on the Walpole Island First Nation.
He is a Métis scholar who has been published in numerous books, articles and magazines. He has served as a Member of the Research Advisory Committee with Canadian Energy Research Institute, a Member of the Leadership Advisory Circle for the Indigenous Centre for Innovation and Entrepreneurship with the City of Toronto and the Chair of the National Advisory Committee with ORIGIN Inc. He is of Métis descent with ancestors attached to Métis Scrip applications and currently resides in Toronto.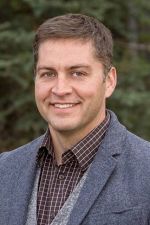 Grant Sullivan
Grant Sullivan is the president of Nihtat Energy Ltd. Prior to that he was the Executive Director of Gwich'in Council International for 10 years, and he was employed by Beaufort Delta Health and Social Services as a Financial Controller. Grant has also owned and operated his own small business and enjoys the challenges of being a contractor. Grant attended primary and secondary school in Inuvik, NT then moved on to earn a Bachelor of Management with a Major in Finance, from the University of Lethbridge in Alberta. Although Grant was born and raised in Inuvik, NT, he presently resides with his family in Whitehorse, Yukon.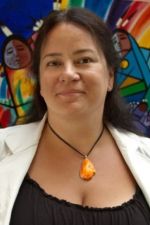 Kory Wilson
Kory comes to BCIT most recently from Vancouver Community College where she served as Director, Aboriginal Education and Community Engagement since 2011. Kory is Chair of the National Indigenous Education Committee of Colleges and Institutions Canada and a Global Access to Post-Secondary Education Ambassador. Kory has a law degree from UBC. With over 20 years of experience in post-secondary education, community development, and the legal profession, Kory's passion lies "in ensuring success for Indigenous Learners and other multi-barriered learners". She has a deep commitment to education and has dedicated her working life to ensuring that under-represented learners succeed, both within learning institutions and the larger community.
Kory is a member of the We Wai Kai Nation (Quadra Island) and is Musgamagw Tsawataineuk and Laich-Kwil-Tach. Both nations are part of the Kwakwaka'wakw Nation, also known as the Kwak'wala speaking people.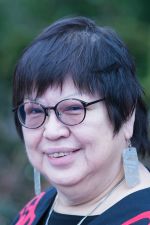 Judith Sayers
Judith is the president of the Nuu-Chan-nulth Tribal Council and Adjunct Professor with the Gustavson School of Business and the School of Environmental Studies at the University of Victoria.She has been involved in the Clean Energy industry since 2001 when her First Nation undertook to develop clean energy and decided on the 6.5 MW China Creek Run of the River project. As Chief of her First Nation, she was instrumental in the development of that project. That project has been operational since 2005. Judith has been the Visiting National Aboriginal Economic Development Chair and an Assistant Professor at the Faculty of Business and Law at the University of Victoria and in that role facilitated economic development with indigenous peoples and helped organize Clean Energy conferences.
Judith served fourteen years as Chief of the Hupacasath First Nation, located in Port Alberni, BC. As Chief of her First Nation, she focused on capacity building and sustainable development. She is also the Chair of the New Relationship Trust Foundation, Co-Chair of the Island Corridor Foundation, Co-Chair of the Joint Working Group on First Nations Heritage Conservation and on the board of the BC Achievement Foundation.
---
Travel and hotel information
Indigenous conference and travel support
We are pleased to offer support for approximately 40 Indigenous community members to attend RiRC and we are now open to inquires. Please refer to our guidelines to see what is covered and how to apply. We anticipate we will be ready to start booking travel on your behalf the third week of February.
Airline discounts
Air Canada — promotion code:  D67AKCT1
Customers will benefit from instant online registration and enjoy a 10% discount on eligible fares. To qualify for the Meeting and Conventions special fares a minimum of 10 delegates is required travelling from various origins to the same destination within Air Canada's extensive North American and international network.
Air North — promotion code: RENEW2020
All delegates booking with the promotion code will receive a 10% discount off of the best GoYukon, Saver or Optimum fare available at the time of booking, when the promotion code is applied. Seat sale fares do not apply.
The discount is valid for two weeks prior and two weeks after the convention/meeting dates so delegates can extend their stay.
Hotel information
We have block codes with two of the main hotels in Whitehorse. 
411 Main Street Whitehorse, Yukon Territory Y1A 2B6
867-668-4500, frontdesk@goldrushinn.ca
Have Standard rooms available.  40 total
Block code 11701
101 Main Street, Whitehorse, Yukon Y1A 2A7
867-667-2572, edgewater@yukonhotels.com
Have Standard and Delux rooms available.  10 total
Block code 423
---
Sponsors
Platinum Sponsors

Gold Sponsors

Silver Sponsors

Bronze Sponsors

---
We are still seeking sponsorship support for this conference. See our Sponsorship Package and get in touch with Mathew Hupfield.
---
Contact us
Conference lead – Dave Lovekin
Conference communication lead – Kelly O'Connor
Sponsorship and partnerships – Mathew Hupfield
Event planner and conference logistics – Nadin Abuhalaweh
Call for Idea questions – Vincent Morales
---