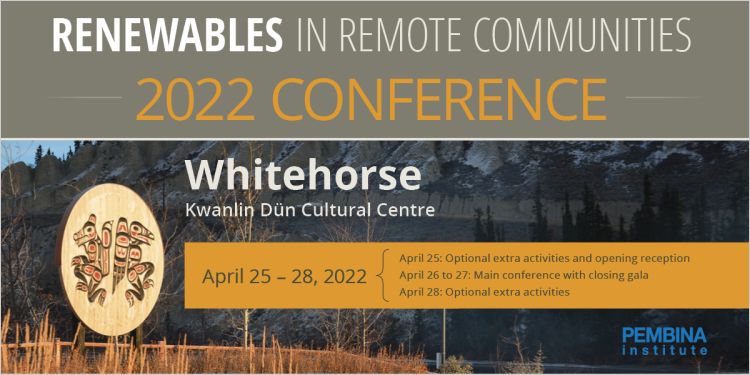 Renewables in Remote Communities
2020 Conference
---
Apr. 21, 2020

8:00am

to Apr. 24, 2020

5:00pm
Kwanlin Dün Cultural Centre, Whitehorse, Yukon
conference
- Public event
---
The business case for clean energy in remote communities
RiRC 2020 will make further progress in understanding the full financial costs of both clean energy and diesel-based systems, and identifying key steps necessary to tip the scale towards making clean energy systems financially competitive and further accelerating economic opportunities for Indigenous communities and the clean energy sector.
Significant transformation of remote community energy systems must eventually include market-based approaches — shifting government capital and operating support towards climate, economic and energy policies that incentivize clean energy projects. The past decade has seen good progress; reflecting on where we are today and where we need to go is important for guiding the next decade of effort.
Research
Detailed research documents on several topics will be developed and distributed before the conference to provide background information and act as a springboard for discussion to advance better policy. Research areas are:

Economic and market opportunities — an analysis of business, entrepeneur and market opportunities for significant clean energy adoption in Canada's remote communities. What is the economic outlook for options such as major efficiency improvements in the built environment, renewable heat and power, and advancing smart technologies?

Diesel reduction progress — analysis of opportunities to reduce diesel use for both heat and power. How far have we come, how far do we have to go and how is our progress tracking in relation to our Canadian commitments to greenhouse gas reduction?
Clean energy project costs — cost analysis of past and current clean energy projects in remote communities. What trends do we see for different technologies and solutions?

Levelized cost of energy — analysis of the levelized economic cost of energy for both diesel and clean energy systems (full replacement or hybrid micro-grid development). How do they compare?
Diesel subsidies — thorough analysis on diesel subsidy policies in a few specific regions. How do these subsidies affect the full costs of diesel energy systems and what needs to happen to untangle them while protecting energy costs?
Agenda and details coming soon.
---
Sponsors
Download our sponsorship information or contact us.