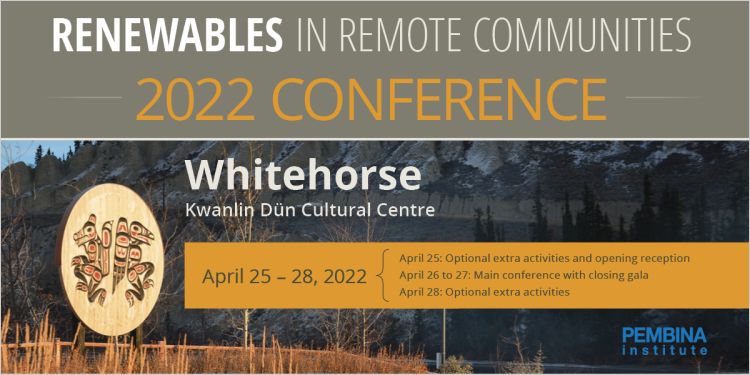 Renewables in Remote Communities
2020 Conference
---
Apr. 21, 2020

8:00am

to Apr. 24, 2020

5:00pm
Kwanlin Dün Cultural Centre, Whitehorse, Yukon
conference
- Public event
---
Advancing the business case for clean energy in remote communities
Conference details
This conference will look at the financial solutions, energy policies, and regulations necessary to further accelerate the transition of clean energy in remote communities across Canada to prioritize Indigenous-owned and led projects. This will also address market transformation and financial investment and collaborative models to attract public, private, social and impact investments.
Overview
RiRC2020 is a four-day event at the Kwanlin Dün Cultural Centre in Whitehorse, Yukon from April 21 to 24, 2020. The two-day main conference, supplemented by activities on the pre-conference and post-conference days, focuses on the collaboration and financial solutions necessary to further accelerate the transition of clean energy in remote communities across Canada while prioritizing Indigenous-owned and led projects.
Research on market transformation, innovative financing mechanisms and collaborative funding models, energy policy, national diesel reduction trends, project costing and diesel subsidies will be provided before the conference to facilitate discussion and collaboration.
The two-day main conference event (Wednesday, April 22 and Thursday, April 23) will feature presentations, panel discussions and group table discussions, with participants sharing recent progress of clean energy projects. Participants will explore how good energy policy — and stable policy environments — can attract private sector investments that complements government funding to support the acceleration of the clean energy transition using market-based approaches and investment from a variety of sectors. This further opening and incorporation of private sector investments in remote clean energy projects is necessary to increase project marketability and must continue to prioritize Indigenous partnership and leadership.
The pre- and post-conference days will offer an opportunity for Indigenous leaders, project proponents, clean technology companies, academia research, government and individuals to host more intimate discussions and give presentations on topics put forth. Sessions will be held at the Kwanlin Dün Cultural Centre. A Call For Ideas for these sessions will be issued in late December, and the schedule will be announced in March.
The pre- and post-conference days will also provide open space for networking, connecting with peers, clean technology companies and discussions in the Longhouse room throughout the day.
Conference objectives
Recognize and celebrate the successes of Indigenous-led clean energy projects and learn where remote communities are on their path to decarbonization and clean energy transition.
Deepen our understanding of market innovation, market-based solutions, and how the clean economy across Canada (and internationally) is attracting private investment and what is needed to bring these solutions further to remote communities.
Explore how better financial approaches, funding models, energy policy, UNDRIP, Indigenous utility ownership and regulations can accelerate clean energy deployment by finding the right conditions for private investment to complement government funding and strong policy.
Learn about diesel and energy subsidies and how to make the economic case to transition to clean energy more compelling.
Agree on feasible next steps and develop a Working Group that will continue to push for good policies and solutions to increase investment opportunities and build Indigenous leadership in the clean energy sector.
Timeline to the conference
---
Research
The RiRC2020 conference will be guided by several research pieces that will be completed and distributed before the conference. These will provide useful input into key concepts that will influence the conference discussions.

Market transformation and opportunities — analysis of market conditions in remote community clean energy projects. What is driving this transition? How can private, social and impact investment opportunities support Indigenous-led clean energy projects? How can government investment and policies support significant transition?

Diesel reduction progress — analysis of how clean energy can — and has — reduced diesel use for both heat and power. How far have we come, how far do we have to go and how is our progress tracking in relation to our Canadian commitments to greenhouse gas reduction?
Clean energy project costs — cost analysis of past and current clean energy projects in remote communities. What trends do we see for different technologies and solutions?

Levelized cost of energy — analysis of the levelized economic cost of energy for both diesel and clean energy systems (full replacement or hybrid micro-grid development). How do they compare?
Diesel subsidies — thorough analysis on diesel subsidy policies in a few specific regions. How do these subsidies affect the full costs of diesel energy systems and what needs to happen to untangle them while protecting energy costs?
---
Registration
Coming January 22, 2020.
---
Program (Preliminary)

TUESDAY, APRIL 21

TIME

ACTIVITY

6 p.m. - 8 p.m.

Evening opening reception

Lighting of the sacred fire (TBC)

---
WEDNESDAY, APRIL 22

TIME

ACTIVITY

8:30 a.m. - 12 p.m.

Welcome, prayer, reviewing goals and objectives of conference

---

 

Research highlights

Diesel reduction progress

---

 

Market transformation

Advancing clean energy financing opportunities in remote communities

---

 

Recent clean energy project examples in remote communities

Panel presentations

---

 

Attracting private investment

Panel discussion

---

12 - 1 p.m.

LUNCH

---

1 - 5 p.m.

UNDRIP, Indigenous Rights and Title, Self-Determination

Panel discussion

---

 

UNDRIP and reconciliation – projects driving change

Community presentations

---

 

Youth engagement and participation in clean energy development

Youth panel discussion

---

 

Debrief of the day

What have we learned

---
THURSDAY, APRIL 23

TIME

ACTIVITY

8:30 a.m. - 12 p.m.

Indigenous utility regulation and energy autonomy

Panel discussions

---

 

IPP policies and PPA rates

Panel presentations

---

 

Levelized cost of energy

Panel presentationss

---

12 - 1 p.m.

LUNCH

---

1 - 4:30 p.m.

Diesel subsidies

Presentation and discussion

---

 

Bringing it together – how to advance financial opportunities for clean energy projects

Presentation, table discussions and plenary discussion

---

 

Where do we go from here to further success

Plenary discussion

---

 

Closing prayer and closing of the sacred fire

---

6 - 9 p.m.

Evening gala

---
---
Speakers
Coming February 2020.
---
Call for Ideas: Pre- and post-conference day sessions
The Pembina Institute is putting out a Call for Ideas for sessions at the pre- and post-conference days on Tuesday, April 21 and Friday, April 24. This is a chance to highlight clean energy project progress, share community stories, network, learn about the clean energy journey in remote communities, and much more. Approximately 40 presentation spots are available over these two days.
Please review this Call for Ideas document to learn about what is offered and what is required of you for putting forth session ideas. There is a lot of important information here so please read thoroughly.
To submit a proposal, fill out the online form.
The Call for Ideas will close January 31, 2020. Conference organizers will contact selected presenters and announce the session list and schedule in early to mid March 2020.
For further inquiries about the Call for Ideas (applications, the session themes, etc.), please contact Vincent Morales.
---
Travel and hotel information
Airline discounts
Air Canada — promotion code:  BC6ZJQ31
Customers will benefit from instant online registration and enjoy a 10% discount on eligible fares. To qualify for the Meeting and Conventions special fares a minimum of 10 delegates is required travelling from various origins to the same destination within Air Canada's extensive North American and international network.
WestJet — promotion code: *Guest web/Travel Agent web:  F87XO87, Promo code *Travel Agent GDS only:  YBB25
Westjet is happy to confirm that for the upcoming Renewables in Remote Communities 2020 conference, we are able to offer 5% off Econo* and 10% off EconoFlex and Premium fares for travel within Canada and 2% off Econo*, 5% off EconoFlex and 10% off Premium base fares for guests travelling trans-border into and out of Toronto.
Air North — promotion code: RENEW2020
All delegates booking with the promotion code will receive a 10% discount off of the best GoYukon, Saver or Optimum fare available at the time of booking, when the promotion code is applied. Seat sale fares do not apply.
The discount is valid for two weeks prior and two weeks after the convention/meeting dates so delegates can extend their stay.
Hotel information
We have block codes with three of the main hotels in Whitehorse.  Block rate rates expire March 22, 2020.  Book your hotel room soon.
---
Sponsors
Sponsorship opportunities are still available – see our Sponsorship Package
---
Contact us
Conference lead – Dave Lovekin
Conference communication lead – Kelly O'Connor
Sponsorship and partnerships – Mathew Hupfield
Event planner and conference logistics – Nadin Abuhalaweh
Call for Idea questions – Vincent Morales
---