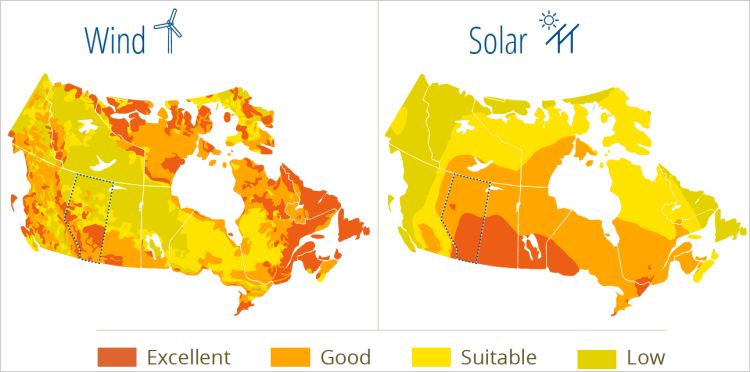 In the wake of the COVID-19 pandemic, the federal government has been working to stimulate the economy while also tying these efforts to its climate ambitions. One province that can particularly benefit from such investments is Alberta. There is a significant economic opportunity to be unlocked by enabling renewables at a faster pace than business-as-usual in Alberta, by way of investment, jobs and affordable electricity. 

For more information and answers to common questions Albertans have about renewables, check out our renewable energy FAQs. Alberta, alongside Saskatchewan, boasts the best solar and wind resources in Canada. A recent forecast by Rystad Energy anticipates Alberta's utility scale solar and wind capacity could be the highest in Canada by 2025.  
The Business Renewable Centre Canada — which facilitates corporate procurement of renewable energy between buyers and sellers in Alberta — aims to achieve 2 gigawatts of renewable energy deals by 2025, which would attract $4 billion of investment to the province. Several major commercial buyers, including Starbucks, Labatt, Marriott Hotel, and Telus, have shown interest.

These renewable energy projects not only catch investors' attention, they also help support community economic development. They can provide a reliable source of revenue to local governments and landowners, create local employment, and advance community development goals, including contributions to local economic diversification. Assorted compensation and ownership models exist that can be designed to enhance shared benefits from renewable energy development. 
If Alberta reaches its legislated target of 30 per cent renewables by 2030, it could generate 31,300 jobs in that time. There are already several shovel-ready projects in Alberta. The Alberta Electric System Operator (AESO) reports that 49 solar and wind generation projects from international and provincial players already received regulatory approval for construction. These projects have a combined generation capacity of 3,805 megawatts, including a 300 MW wind project developed by EDP Renewables, and several 200 MW wind projects developed by ENMAX, BluEarth Renewables, and Suncor. Combined, these projects could create over $8 billion of investment in Alberta and more than 10,400 jobs by 2024.
Renewable energy can also support the reliability and resiliency of Alberta's grid while helping lower the cost of energy. A 2019 economic analysis by the Pembina Institute compared the cost of generating electricity with clean energy portfolios (wind, solar, battery energy storage, demand flexibility and energy efficiency) against that of new gas plants (combined cycle and simple cycle) in Alberta. We found that clean portfolios could provide the same services as the gas plants at a lower cost, including in peak demand scenarios.  
While renewables are cheaper than conventional sources of power, the playing field is still not level. In particular, challenges remain with respect to accessing financing and resolving regulatory issues related to integration and valuation of renewables. 
In Pembina's recommendations for green stimulus response to the global pandemic earlier this year, we suggested deep decarbonization of Canada's electricity system could be achieved through investment in updated infrastructure, enabling financing and adoption of clean energy technologies, improving connectivity between provinces, electrification of end uses, and small-scale renewable energy generation.
Leveraging stimulus spending to reduce barriers for renewable energy development will help Alberta tap into the potential of its vast renewable energy resources, which will mean more jobs, more investment coming to the province and affordable electricity. It's a win for both Alberta and Albertans.
---
Binnu is the director of the Pembina Institute's electricity program. She is based in Calgary.
---