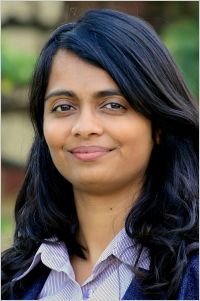 Binnu brings a wealth of skills, expertise and experience from the power industry, government and non-profit sectors to her position as director of the electricity program of the Pembina Institute, Canada's leading energy think tank. Her portfolio includes managing the phase-out of coal power, integrating renewables, and modernizing the grid. She has expertise in fossil fuel and renewable generation technologies, community energy, sustainability strategy development. She has designed and convened several multi-stakeholder engagements on energy policy issues.
Before joining the Pembina Institute, Binnu worked as a plant and performance engineer at TransAlta's various generating facilities in Alberta, Ontario, and Mexico. She also provided management consulting services to the Ghanaian government focusing on local government effectiveness. She currently serves on the board of Blue Green Canada.
During her free time, Binnu loves to spend time in the Rockies, hiking and canoeing.
---
Contact Binnu Jeyakumar
work: 587-606-2260 • email: binnuj@pembina.org • tweet: @binnu_yyc
Binnu Jeyakumar's Recent Publications