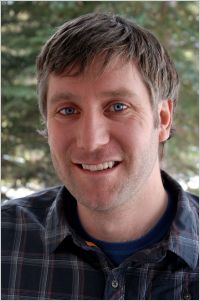 Steven Cretney provides communications and design guidance and support across the Pembina Institute's various issue areas and is responsible for creating and maintaining the Institute's brand across all print and online channels. He is an award-winning designer and is professionally designated by the Society of Graphic Designers of Canada. Steven holds a master's of science in strategic leadership towards sustainability from Blekinge Tekniska Högskola, Sweden, a bachelor of communications studies from the University of Calgary and a diploma in audio-visual communications from Grant MacEwan College.
Since 2008, Steven has run a small communications design studio offering branding, graphic design and communication strategies that endorse social, environmental and educational initiatives. He has also worked in several in-house communications and marketing teams, including at Mountain Equipment Co-op and Grant MacEwan College.
Steven always feels alive and inspired in the forest. This may explain why he lives in Nelson, British Columbia, nestled in a mountain range that extends forever in all directions. Steven loves spending time on his bike, with his family, in the forest.
---
Steven Cretney's Recent Publications