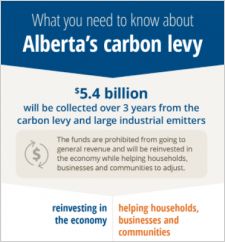 This infographic has been updated to reflect the 2018 rebates and show details on the natural gas levy.
Putting a price on carbon is one of the key components of Alberta's climate leadership plan and represents robust climate policy. But there is significant misunderstanding about how the revenue collected will be used, what the impact on families will be, and how Alberta's plan will interact with the federal plan to price carbon.
In this infographic we review the rules around uses of the revenue and show how it will be reinvested in the economy and used to support households, businesses and communities.
To learn more, see Carbon pricing: The Alberta Climate FAQ series.