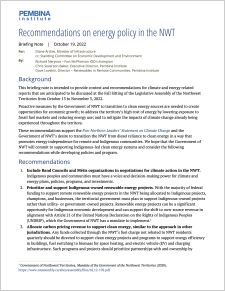 This briefing note is intended to provide context and recommendations for climate and energy related reports that are anticipated to be discussed at the Fall Sitting of the Legislative Assembly of the Northwest Territories from October 13 to November 3, 2022.
Proactive measures by the Government of NWT to transition to clean energy sources are needed to create opportunities for economic growth; to address the territory's high cost of energy by lowering exposure to fossil fuel markets and reducing energy use; and to mitigate the impacts of climate change already being experienced throughout the territory.
These recommendations support the Pan-Northern Leaders' Statement on Climate Change and the Government of NWT's desire to transition the NWT from diesel reliance to clean energy in a way that promotes energy independence for remote and Indigenous communities. We hope that the Government of NWT will commit to supporting Indigenous-led clean energy systems and consider the following recommendations while developing policies and programs.
Richard Nerysoo is an IODI Energy Champion. He served as premier of NWT from 1984 to 1985 and is actively working on bringing clean energy projects to his home community of Fort McPherson.