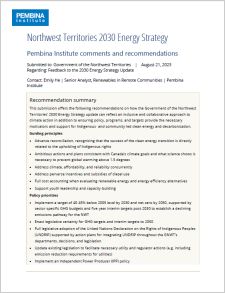 From June to August 2023, the Government of the Northwest Territories (GNWT) invited commentary and review of its approach to energy and climate change mitigation issues in the NWT as it reviews its 2030 Energy Strategy and Climate Change Strategic Framework. The Pembina Institute, having reviewed the strategy, has provided various recommendations for consideration by the GNWT.
As part of this review, the Pembina Institute offers critique, commentary, and review for the GNWT to continue its momentum and align its emissions targets with global and national actions. 
Advance reconciliation, recognizing that the success of the clean energy transition is directly related to of the protection and affirmation of Indigenous rights

Implement emissions reduction targets of 40-45% below 2005 levels by 2030 target and a net zero by 2050 target
Decarbonize transportation through setting 2030 and interim targets for the number of EVs on the road, funding EV rebate programs, committing to purchasing EVs for new government vehicles, and building charging infrastructure

Address building needs and reduce emissions through deep retrofits, capacity building, increasing rebates for retrofits and energy efficiency, fuel-switching, and implementing alternative financing models to address capital barriers
As the GNWT reviews feedback from this engagement period, it has the opportunity to raise its ambition and join global, national, and Indigenous partners in setting ambitious and deliberate climate targets that prioritise Indigenous rights and ongoing climate challenges. Ambitious target setting is sure to introduce new technical and complex challenges for many NWT businesses, governments, industry, as well as Indigenous communities and leaders. Together, however, all stakeholders and rightsholders can meet these challenges through principled, collaborative, and reflexive approaches and actions that prioritise Indigenous rights and the health and safety of diesel-reliant communities, local and territorial economy and good jobs, as well as a healthy and thriving environment.
The Pembina Institute would like to express gratitude for the opportunity to review the draft 2023 GNWT Energy Plan and looks forward to continued engagement on similar matters in the future.