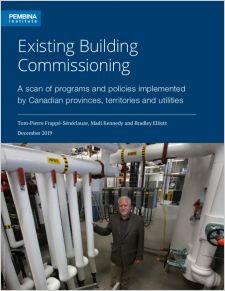 Energy efficiency initiatives provide a way to reduce greenhouse gas (GHG) emissions, lower costs for Canadians and businesses, create jobs, promote energy conservation, and provide stimulus to the economy. Natural Resources Canada's Office of Energy Efficiency delivers energy efficiency programs and tools to the housing, building, equipment, communities, industry, and transportation sectors.
The Pan-Canadian Framework on Clean Growth and Climate Change, which was developed with the provinces and territories and in consultation with Indigenous peoples, is Canada's plan for meeting its emissions targets, building resilience for a changing climate, and growing the economy. The Pan-Canadian Framework consists of four pillars: carbon pricing, mitigation, adaptation, and innovative technology.
The mitigation pillar of the Pan-Canadian Framework includes Build Smart – Canada's Building Strategy, which focuses on actions to reduce greenhouse gas emissions from new and existing buildings and houses. Among other commitments, the Build Smart strategy contains a commitment to launch the development of a "recommissioning framework" to optimize existing buildings starting in 2018.
This report provides an environmental scan of provincial, territorial and utility initiatives and requirements in the area of existing building commissioning. This research is provided to inform policy development and stakeholder engagement in the context of this recommissioning framework.
Definitions
Commissioning is an intensive quality assurance process that ensures that a building "operates as the owner initially intended and that building staff are prepared to operate and maintain its systems and equipment." Beyond being a final systems check, commissioning has evolved into a progressive process that includes systematic verification and testing, staff training, and thorough documentation of all systems.
Existing building commissioning is a broad term that encompasses commissioning options applied to existing buildings, including recommissioning, retrocommissioning and ongoing commissioning, as defined below:
Recommissioning is a re-optimization process for existing buildings. It seeks to improve how building equipment and systems are operating to meet current occupant needs. This is done by investigating to identify problems and integration issues and identifying low-cost or no-cost operational improvements to obtain comfort and energy savings. This process can be undertaken alone or along with a retrofit project.
Retrocommissioning is a related term for the same process, but it applies to an existing building that was not originally commissioned. However, further investigation is usually needed due to lack of previous recommissioning data.
Ongoing commissioning is the continuous process that helps to monitor and ensure effective and efficient building performance over its lifecycle. Energy use, benchmarking, conformance to and continuous revision of the current facility requirements, automated fault detection and diagnostics, and training are all key parts of the ongoing commissioning process.