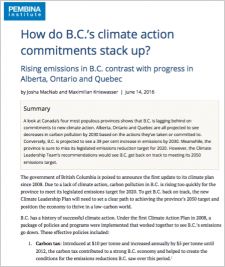 A look at Canada's four most populous provinces shows that B.C. is lagging behind on commitments to new climate action.
Alberta, Ontario and Quebec are all projected to see decreases in carbon pollution by 2030 based on the actions they've taken or committed to. Conversely, B.C. is projected to see a 39 per cent increase in emissions by 2030.
Meanwhile, the province is sure to miss its legislated emissions reduction target for 2020. However, the Climate Leadership Team's recommendations would see B.C. get back on track to meeting its 2050 emissions target.