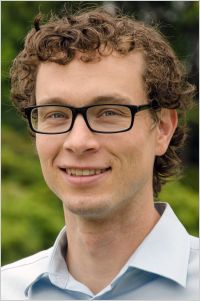 Maximilian Kniewasser is the director of the B.C. clean economy program for the Pembina Institute, Canada's leading clean energy think tank. In this role, Max focuses on a range of climate and energy issues including carbon pricing, LNG and shale gas development, and the economic opportunities in moving to a low carbon future. Through this work, he hopes to reduce the environmental impacts of energy production and consumption, while also preparing B.C. for success in transitioning to a clean energy economy. He has a deep understanding of B.C.'s energy systems and global energy markets, and is a self-professed policy wonk. Max has published numerous reports and studies, helps facilitate difficult conversations among different parties, and represents the Institute in multi-stakeholder forums.
Max holds a Bachelor of Science from McGill University, and a Master of Resource and Environmental Management from Simon Fraser University. His graduate research focused on using energy-economy models to quantify the costs and benefits of Canadian energy and climate policy initiatives.
When not in the office, Max enjoys carving snowy turns down B.C.'s Coast Mountains, riding his bike down winding trails, and paddling down the area's clear blue rivers.
---
Contact Maximilian Kniewasser
cell: 604-908-4164 • tweet: @MaxKniewasser
Send an email
Maximilian Kniewasser's Recent Publications