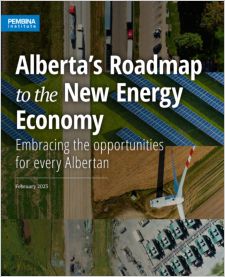 Alberta has always been an international leader on energy. Our abundant natural resources, coupled with our proud history of technological innovation in the oil and gas sector— particularly the oilsands—means we are renowned for our ability to use a skilled labour force to reach new frontiers in energy production.
In 2023, Alberta has an opportunity to build on that history and move towards a new energy future. In doing so, it can begin to capitalize on the multiple opportunities associated with the globally emerging clean economy.
To achieve this, Alberta needs a robust, credible plan on climate and energy. The number of governments worldwide that are legislating emissions reduction targets and policy measures to deliver them is rapidly growing each year, and it is time that Alberta joined them. This province — home to some of the world's foremost experts on carbon capture technology, methane reduction techniques, wind and solar power, and so many other clean energy solutions— has much to offer to the energy transition, and much to gain. The International Energy Agency, for example, estimates 14 million new energy jobs and 16 million new jobs in energy efficiency will be created, worldwide, between now and 2050.

To take advantage of these opportunities, Alberta must also be willing to confront the realities of the global shift towards low-carbon energy sources, and take steps to adapt and futureproof its economy and workforce. The global outlook for fossil fuels, for example, has fundamentally shifted in the last twelve months. In 2022, for the first time, a range of assessments — including from within the oil industry — projected that the current level of worldwide policy momentum on emissions reductions will result in a sustained decline in global demand for oil, beginning this decade. If the world successfully achieves its goal of reaching net-zero emissions by 2050 and avoiding the worst effects of climate change, that demand decline will begin sooner and be steeper — and will have a significant impact on Alberta's industry. 
Acknowledging these realities, and choosing to show leadership on climate and energy policy, is integral to Alberta's overall attractiveness as an investment destination. Now more than ever before, companies are looking for opportunities to invest in climate solutions, and for jurisdictions where they can operate while meeting their own climate goals. Choosing instead to remain out of step with the global trend towards low-emissions economies would leave Alberta at a significant disadvantage in the years ahead.
The Pembina Institute is, and has always been, proudly headquartered in Alberta; this is our home. We are committed to seeking out effective, evidence-based policy solutions that can support this province's communities, economy, and environment. 
As the 2023 provincial election approaches, this document provides our recommendations to future leaders in Alberta to advance this province's position in the transition towards low-carbon energy. Above all, we think Alberta can and should be a leader on climate and the energy transformation in Canada.