Published in DeSmog Canada (May 5, 2017)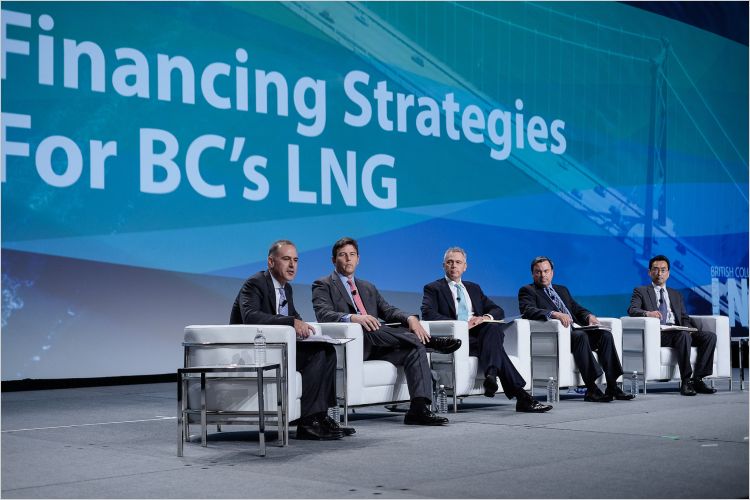 Four years ago, the government of British Columbia bet big on the prospect of liquefied natural gas (LNG) exports creating overseas markets for the province's shale and tight gas resources.
LNG development would deliver 100,000 jobs, a $100-billion Prosperity Fund, and over $1 trillion in economic activity, British Columbians were told. Since then, however, the economics of LNG have shifted, and the predicted LNG boom has yet to materialize.
In order to attract LNG investment, the provincial government has provided myriad incentives, exemptions, and direct transfers to the natural gas industry. Financial incentives that shield the emissions-intensive industry from current and potential future increases in carbon costs are of particular concern to the Pembina Institute.
For one thing, these measures lessen the incentive to reduce carbon pollution — as the world increasingly demands that polluters pay for their emissions. Furthermore, such incentives use scarce public dollars to support the fossil fuel sector at a time when government should be removing barriers to clean innovation and investing in green jobs.
Here is an overview of six carbon-related incentives that benefit LNG projects and the natural gas industry in B.C.
1. Carbon tax exemptions 
B.C.'s carbon tax currently only applies to combustion emissions and fails to put a price on non-combustion sources (especially venting and fugitive emissions). According to B.C. government reporting, combustion emissions in the natural gas sector account for approximately 60% of total emissions associated with the industry. That leaves 40% of the industry's emissions un-priced.
The current value of this exemption for the natural gas industry is estimated at over $150 million a year. This value would increase if a substantial LNG industry emerges. As well, a recent report shows that vented and fugitive emissions in B.C.'s oil and gas sector are 2.5 times higher than reported, making the exemption even more valuable.
By expanding the coverage of B.C.'s carbon tax to include all currently accurately measurable emissions, about half of these exempted emissions could be priced.
2. LNG Environmental Incentive Program 
The Liquefied Natural Gas Environmental Incentive Program rebates industry 50-100% of the compliance costs of the LNG benchmark regulations established by B.C.'s Greenhouse Gas Industrial Reporting and Control Act (GGIRCA). Of the three most advanced LNG projects, this incentive only applies to Pacific NorthWest LNG (PNW LNG), which is the only project that fails to achieve the emissions benchmark set by the provincial government. The value to PNW LNG is estimated at up to $16 million a year.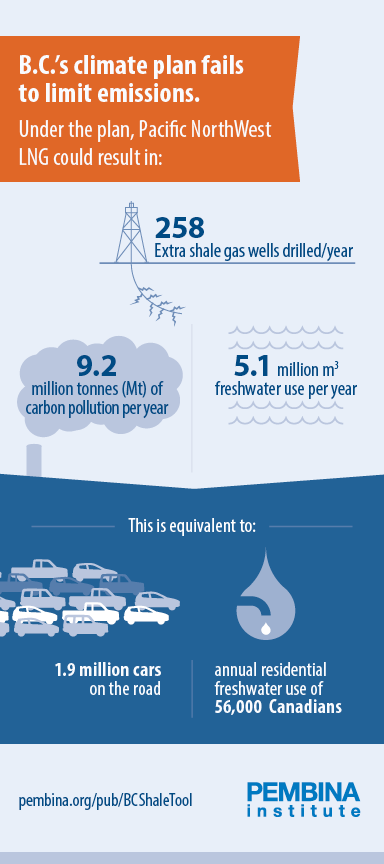 3. eDrive electricity rate for LNG facilities
The eDrive electricity rate offers a significantly lower price to LNG projects that choose to use grid electricity to power the main liquefaction process. In 2013, B.C. Hydro announced an LNG-specific electricity rate. The rate was higher than the current industrial rate — to reflect the cost of new supply and to protect existing ratepayers. 
However, the eDrive rate reduces this LNG electricity rate to the standard industrial rate. Woodfibre LNG announced that it would proceed with its project on the same day the eDrive rate was made public. The value to Woodfibre LNG is estimated at $26 million a year.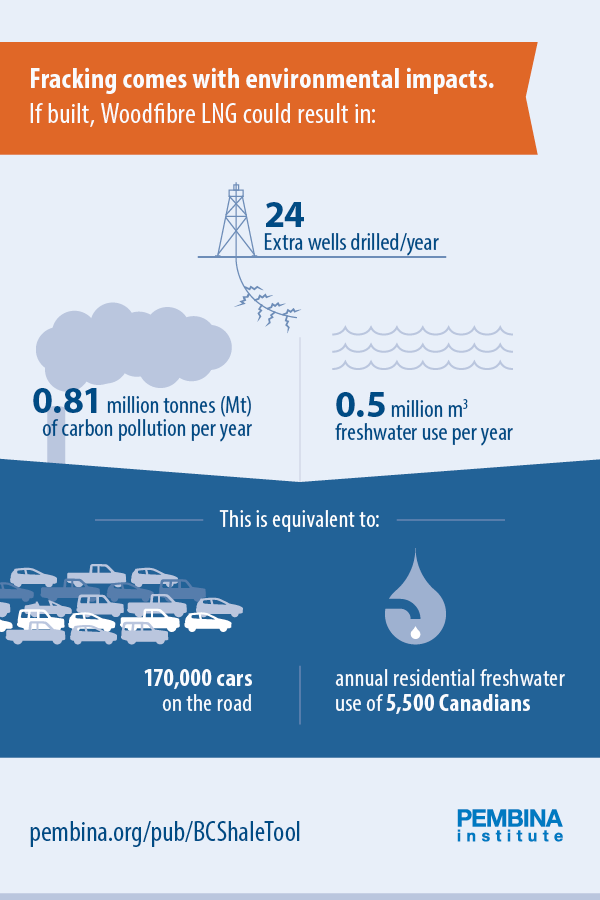 4. Upstream electricity infrastructure spending
In last year's climate plan, the B.C. government announced it would invest in electricity infrastructure in the Montney basin to enable the electrification of upstream natural gas development. As details are not yet available, the Pembina Institute is not able to quantify the potential magnitude of the incentive.
5. Competitive electricity rate for upstream development
B.C.'s climate plan states: "Programs are also being developed to close the gap between electricity and natural gas costs." Under current market conditions, using natural gas is generally cheaper for the industry compared to electricity.
As such, any public programs to equalize the costs of electricity and natural gas would be associated with material costs to government. As details are not yet available, the Pembina Institute is not able to determine the potential value of the incentive.
6. Project development agreement with Pacific NorthWest LNG
In 2015, the B.C. government signed a project development agreement (PDA) with Pacific NorthWest LNG. For PNW, the PDA locks in the current GGIRCA — the main legislation regulating carbon pollution from LNG facilities — for 25 years. It also locks in the aforementioned LNG Environmental Incentive Program. 
If the government chooses to strengthen GGIRCA or alter the LNG Environmental Incentive Program, it could owe compensation to the proponent. In effect, the PDA is a significant barrier to future administrations strengthening regulations for the industry. This is an important point, because it will be the case over a period that we know must see the ambition of climate policy increase. 
Wait, there's more
This suite of carbon-related incentives for LNG projects and the natural gas industry is substantial in value. In addition, there are numerous non-carbon-related incentives, such as the cutting of the LNG income tax by 50%, federal capital cost allowances, and significant upstream royalty credits that have led to record low royalties from a public resource. 
Currently, 19 LNG projects are proposed in B.C. Only three — Woodfibre LNG, LNG Canada, and Pacific NorthWest LNG — are at an advanced stage and have received environmental assessment certificates. Together, the three projects would emit 18 million tonnes of carbon dioxide equivalent (Mt CO2e), making it impossible to meet B.C.'s legislated 2050 climate target of 13 Mt CO2e for the whole economy.
Instead of spending public dollars to bolster the carbon-intensive fossil fuel sector, the provincial government should be putting resources into revving up the clean growth economy. After all, a prosperous future for B.C. depends on investments in the industries of tomorrow — not yesterday.
Maximilian Kniewasser is an analyst at the Pembina Institute, Canada's leading clean energy think-tank. Learn more: www.pembina.org.
This article originally appeared in DeSmog Canada on May 5, 2017.
---
Maximilian Kniewasser
Maximilian Kniewasser was the director of the Pembina Institute's B.C. clean economy program until May 2018.
---