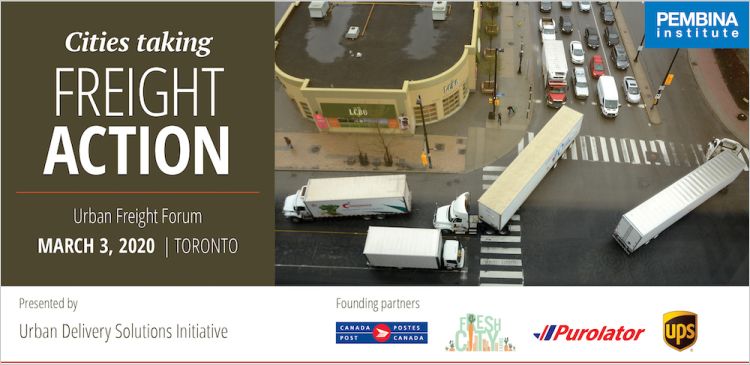 Cities Taking Freight Action
A Canadian urban freight forum
---
Mar. 3, 2020

9:00am - 5:00pm

EST
Toronto
conference
- Invitation only
---
In March 2020, the Pembina Institute will host a forum to catalyze how urban freight can be differently managed in our cities, both now and in the future. The forum will gather a cross-section of the most influential city-builders, transportation planners, policy practitioners and recognized sustainability leaders in business and industry.
The forum will broaden the national conversation around land use and transportation planning in Canada and address key challenges in design, policy and implementation. The event will create a space for knowledge sharing to help practitioners with how to plan for freight in our communities. Forum topics and themes will include municipal leadership on urban freight and goods movement, alternative delivery and operating models, opportunities for new and emerging delivery modes and technologies, and showcasing successful partnership for implementation.
Your participation and involvement will help cities build a more sustainable freight system in Canada. The Cities Taking Freight Action forum is a critical next step to helping Canadian cities realize their full planning potential, and will provide practical peer-to-peer learning opportunities for transportation planning and city-building leaders.
To learn more about sponsorship opportunities, contact Iain McMullen.