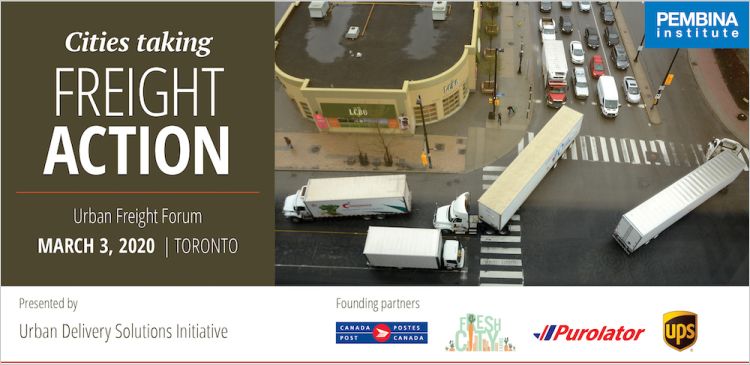 Cities Taking Freight Action A Canadian urban freight forum
---
Mar. 3, 2020

9:00am - 5:00pm

EST
Toronto
conference
- Invitation only
---
On March 3, 2020 the Pembina Institute will host the Cities Taking Freight Action forum to catalyze how urban freight can be differently managed in our cities, both now and in the future. The forum will gather a cross-section of the most influential city-builders, transportation planners, policy practitioners and recognized sustainability leaders in business and industry.
The forum will broaden the national conversation around land use and transportation planning in Canada and address key challenges in design, policy and implementation. The event will create a space for knowledge sharing to help practitioners with how to plan for freight in our communities. The forum is a critical next step to helping Canadian cities realize their full planning potential, and will provide practical peer-to-peer learning opportunities for transportation planning and city-building leaders.
The day will be an exciting mix of keynote speakers and panels featuring speakers from CALSTART, the City of Edmonton, Freightera, Fresh City Farms, Geotab, Jalon MTL, Purolator, ShipperBee, Smart Freight Centre, and UPS Canada. 
Agenda:
8:30-9:00: Registration and coffee
9:00-10:00: Opening remarks
Welcome: Josha MacNab, National Strategy Director, Pembina Institute
Remarks: Louis-Paul Tardif, Director, Multimodal Transportation Performance & Capacity Analysis, Transport Canada
Keynote address: Eric Beckwitt, Founder and CEO, Freightera
10:00-11:15 — Session 1: The business of urban freight: Where are we and where are we going?
With consumers ordering more things online, and increased expectations for fast, free, and convenient shipping, the landscape of urban freight is shifting, in particular, the "last-mile". This panel brings together businesses that are responding to demands, both current and anticipated. Practical questions will arise on the role(s) of government and policymakers to plan and intervene where needed, and support businesses along the way.
Moderator: Chad Schella, General Manager, Government and Community Affairs, Canada Post
Panellists: 
11:30-12:30 — Session 2: The role of municipal and regional freight planning in a changing world
80% of Canada's population live in urban areas. As populations in cities across the country grow, so does urban density and the demand to move both people and goods within and across cities. At the same time, transportation GHG emissions have grown and represent a quarter of emissions in Canada. In this panel, we will hear from municipal and regional planners and city-builders from across Canada on their city planning, programs and on-the-ground experiences as they find ways to better manage streets for a wide diversity of movement, people and users.
Moderator: Clarence Woudsma, Director, School of Planning, University of Waterloo
Panellists:
12:30-1:30 — Lunch and networking
1:30-2:45 — Session 3: Emerging innovations in urban freight
New and emerging technologies are shaking up entire freight delivery supply chains and logistics and are unlocking new datasets, resources, insights and a new way of doing business. Hear perspectives and experiences from businesses on how they are responding to market changes by integrating technologies and rethinking their operational delivery model to meet increased urban freight demands. Cities and businesses must work together to ensure that these solutions enhance, not diminish, civic life.

Moderator: Kathryn Blaze Baum, National and Environment Reporter, Globe and Mail
Panellists: 
3:00-4:15 — Session 4: Implementing urban freight solutions
Cities are better positioned to address growing urban freight challenges when we share ideas and work together. In this session, hear from organizations who have taken bold steps to establish innovative partnerships to pilot and scale a wide array of solutions to better manage streets, address an unprecedented increase of urban freight deliveries and reduce on-road transportation emissions in Canadian cities and beyond.
Moderator: Carolyn Kim, Ontario Regional Director, Pembina Institute
Panellists: 
4:15-6:00 — Closing remarks and reception 
To learn more about sponsorship opportunities, contact Jennifer Meneses.