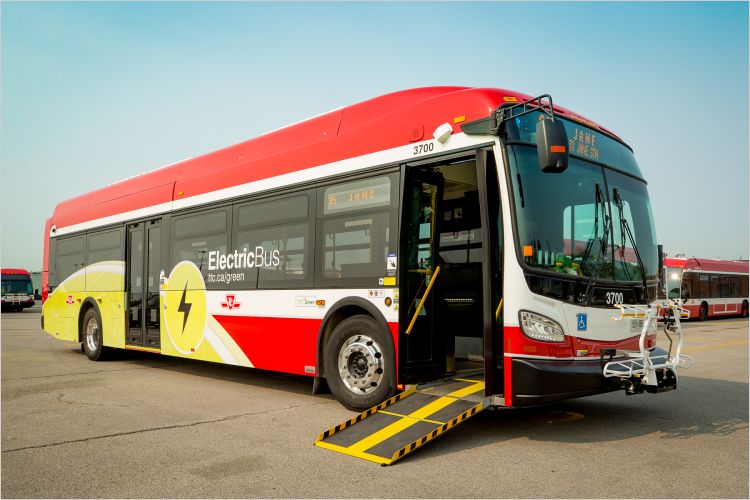 Is it just us, or has the air in Toronto seemed a little bit cleaner this summer? That could be thanks to the Toronto Transit Commission (TTC)'s first electric bus entering into service earlier this summer. While it may seem like a modest start, this is an exciting first step in the TTC's commitment to have a 100% zero-emissions fleet by 2040, with an additional 60 electric buses expected to be added in 2020. This step forward is part of a joint funding commitment with the federal government to green Toronto's fleets.
Also this summer, as part of the Canadian Urban Transit Research & Innovation Consortium (CUTRIC)'s Pan-Canadian Electric Bus Demonstration and Integration Trial, it was announced that Brampton Transit will receive funding from Natural Resources Canada to grow their electric bus fleet, as well as the required infrastructure.
We're really encouraged to see this progress, as transit electrification is key to lowering emissions in the heavy-duty vehicles sector. To reach both our 2030, and mid-century decarbonization targets, investments and action needs to be made to reduce our greenhouse gas emissions in the transportation sector, which currently accounts for a quarter of Canada's total carbon pollution.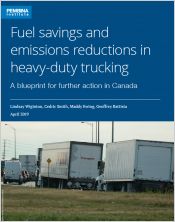 In our recent report, 'Fuel savings and emissions reductions in heavy-duty trucking', we created a blueprint for action with 11 recommendations on how the federal government can work to bend the emissions curve in heavy-duty freight. One of these recommendations is to ensure federal support or incentives to Canadian transit agencies in purchasing zero-emissions buses. When transit agencies show leadership in fleet electrification, they're helping grow the market and accelerating the development of cleaner heavy-duty vehicle technologies. Not to mention the job growth possibilities – Canada has a growing electric bus manufacturing industry, with businesses like New Flyer, BYD and Nova Bus leading the way.
As we mentioned above, one of the biggest benefits the transition to zero-emission buses will be our improved health. Electric buses produce no harmful tailpipe emissions, saving us from smog and other air pollutants, resulting in cleaner air and happier lungs. Electric buses are also notably quieter, thereby reducing the amount of noise pollution along bus routes.
We're pleased to see Toronto and Brampton joining the ranks of other electric bus leaders in Canada, like Edmonton, and all of British Columbia. Leadership from major agencies like these are exactly what we need to continue to grow electric vehicle and infrastructure technology in Canada. We're excited to learn more at the Canadian Urban Transit Association's Transit Policy Forum next week. We'll be presenting along with leaders like New Flyer and TransLink (Metro Vancouver's  transit agency).
Want to learn more? Check out the recording from our recent webinar.
---
Maddy Ewing
Maddy was a senior analyst with the Transportation and Urban Solutions team at the Pembina Institute until 2022.
---