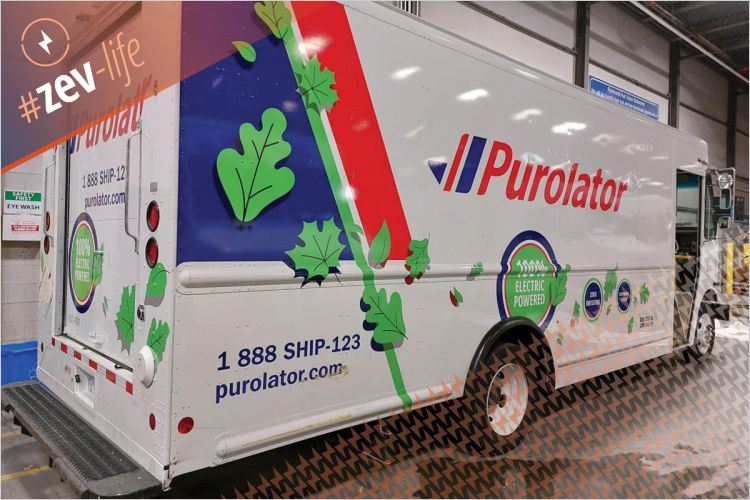 Transitioning a fleet of combustion engine vehicles to those powered by electricity presents significant financial and technological challenges. However, public departments and private corporations across Canada and the United States are now on the path to a green energy future with the help of partners who have the expertise, the interest, and in some cases the capital, to assist them in making the switch. In this new series, the Pembina Institute interviews organizations who have begun the process. This is the first entry in the series. We thank the participants for their time and insights. 
Purolator couldn't wait. Their hard-working and ubiquitous step-vans were emitting large volumes of greenhouse gases, but medium- and heavy-duty electric vehicle (EV) manufacturers were focused on making cube vans. Choosing not to stand still, Purolator started transforming their fleet. They replaced some internal combustion vehicles with all-electric ones — with a little help from a friend, Motiv Power Systems.
"There's so much happening right now in the electric vehicle space, including a lot of movement in the direction of electrification of fleets as businesses are learning more about the benefits," Cindy Bailey, Purolator's Director of Corporate Sustainability, said in an interview with the Pembina Institute.
Purolator currently has about 5,000 vehicles on the road and most of them are step vans.
The challenge to find a vehicle that works for their business
But, in these early days of transitioning to EVs, most original equipment manufacturers (OEMs) are focused on developing and building the smaller format cargo vans that are being demanded by companies like Amazon, FedEx, Walmart, and the U.S. Postal Service. The majority of Purolator's fleet is comprised of the larger step-vans that aren't yet readily available as electric vehicles. Securing new types of vehicles is made even more complex because they're often built by multiple vendors. A single vehicle may need to pass through several companies, which can result in delays and increased lead times. With the ambition of being Canada's Greenest Courier, Purolator wanted to take immediate action to begin reducing its carbon footprint.
Rather than wait for one of the auto giants to manufacture a step van, Purolator opted to work with a company called Motiv Power Systems, a leading innovator of EV box trucks, step vans and shuttle buses. Motiv manufactures all-electric step vans that are built to match Purolator's current van configuration while freeing their fleet from fossil fuel dependency. 
Joe Lombardo, Purolator's Vice President of Network Operations, said the courier company ordered five of the all-electric Motiv step vans in 2020, which were deployed in Richmond, B.C., last July.
According to Purolator, the EVs were worth the wait and have been well-received by couriers, customers and the local community.
"The good news about Motiv is, they're in it to win," said Lombardo. "Motiv has worked with us to ensure that their step vans not only meet our technical requirements but enable Purolator to achieve our reliability and sustainability goals. By providing driver training, vehicle performance reporting, and in-market technical support, Motiv helps Purolator maximize its investment and deliver an exceptional customer experience with zero emissions."
Beyond step vans, Purolator is also testing a range of zero-emissions vehicles to determine the best options for courier deliveries as Canada shifts to a zero-emissions economy.
Road testing for critical early learnings
Over the next 18 to 24 months, Purolator will road test multiple electric last-mile delivery vehicles — including step vans, cargo vans, e-bikes, and low-speed vehicles — to assess their effectiveness in Canada's varying geography and climate conditions.
"We want to make sure we're getting in early so that we obtain those critical early learnings, take the opportunity to build relationships with the OEMs and to position ourselves to transition our fleet as the industry increasingly moves in that direction," said Bailey.
Purolator's pilot projects will help determine how factors like battery range and cost of operation will affect the move to EVs. It has plans to test different vehicles from different manufacturers to assess reliability. And it is testing the ability of terminals to support EV charging infrastructure.
With its transition to EVs, Purolator also expects to reduce noise pollution during deliveries and the amount of maintenance required to keep its trucks running.
The company has not yet announced targets for the future integration of EVs into its fleet. But Bailey said Purolator has ambitious plans to reduce its greenhouse gas emissions.
The need to transition to green energy is being driven, at least in part, by customer demand, said Arno Zlamal, the Operations Director for Western Canada. Purolator's customers want the courier company to deliver their goods in zero-emissions vehicles.
Chris Henry, Purolator's Director, National Fleet said Purolator's employees also encourage the company to continuously make improvements and strive to keep leading when it comes to reducing its impact on the environment.
Follow the #ZEV-life series and more on Pembina Institute's work by signing up for our newsletter.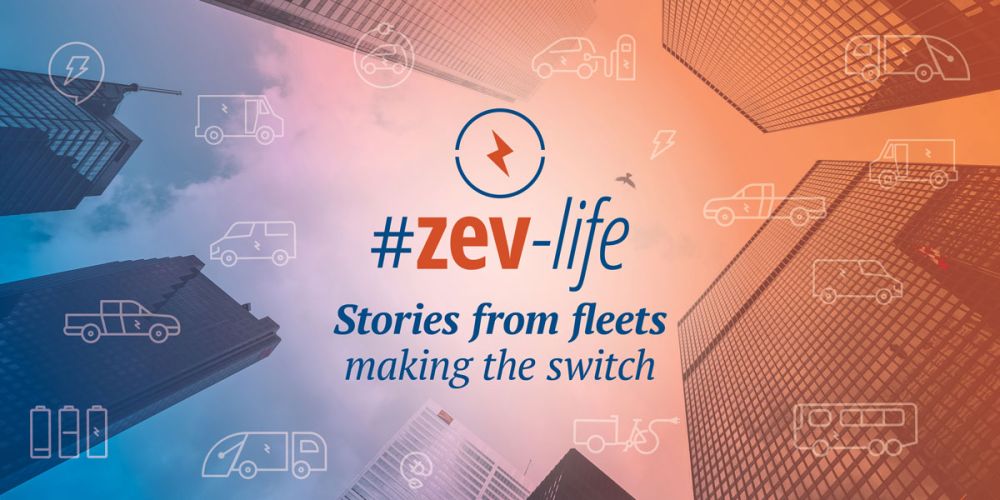 ---
Kendall is the director of the Pembina Institute's equitable transition program, and is based in Toronto.
---