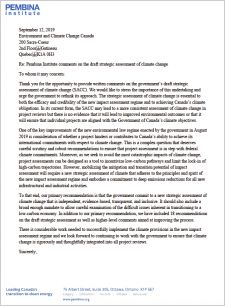 One of the key improvements of the new environmental law regime enacted by the government in August 2019 is consideration of whether a project hinders or contributes to Canada's ability to achieve its international commitments with respect to climate change. This is a complex question that deserves careful scrutiny and robust recommendations to ensure that project assessment is in step with federal climate commitments.
The strategic assessment of climate change is essential to both the efficacy and credibility of the new impact assessment regime and to achieving Canada's climate obligations. In its current form, the SACC may lead to a more consistent assessment of climate change in project reviews but there is no evidence that it will lead to improved environmental outcomes or that it will ensure that individual projects are aligned with the Government of Canada's climate objectives.
In this submission, our primary recommendation is that the government commit to a new strategic assessment of climate change that is independent, evidence-based, transparent, and inclusive. It should also include a broad enough mandate to allow careful examination of the difficult issues inherent in transitioning to a low-carbon economy. In addition to our primary recommendation, we have included 18 recommendations on the draft strategic assessment as well as higher-level comments aimed at improving the process.