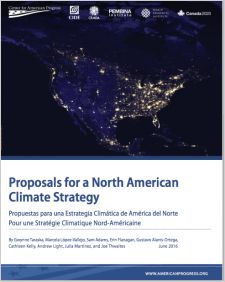 For the first time in recent memory, the national governments of the United States, Mexico, and Canada are politically aligned on climate change. The three countries should take this opportunity to explore and launch coordinated climate initiatives that could propel the shift to clean energy across the continent and—through international leadership—accelerate the reduction of greenhouse gas pollution globally.
Recognizing the strong role that an allied North America could play in the movement to address climate change, a coalition of think tanks in the United States, Mexico, and Canada—including the Center for American Progress, the Centro de Investigación y Docencia Económicas, the Centro Mexicano de Derecho Ambiental, the Pembina Institute, the World Resources Institute, and Canada 2020—has identified a set of trilateral initiatives that could be both effective and within the power of the three governments to undertake.
On June 29, 2016, President Barack Obama, President Enrique Peña Nieto, and Prime Minister Justin Trudeau convene for the North American Leaders' Summit in Ottawa, Ontario. This summit provides a near-term opportunity for the three leaders to explore options for trilateral cooperation—such as the initiatives detailed in this report—and to articulate a coordinated North American climate plan.