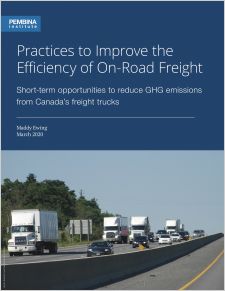 Freight trucks are an increasing source of greenhouse gas (GHG) emissions in Canada and greatly contribute to air pollution. While significant progress has been made to reduce the impacts of transportation through these measures, there are still several ways by which the efficiency of freight operations in Canada can be improved. While it's important to support technological solutions that facilitate a shift to near- and zero- emission on-road freight vehicles, it's also important to target vehicle efficiency improvements that can benefit existing freight trucks that will be on the road for years to come. This report highlights practices that can be adopted by heavy-duty truck carriers in Canada to reduce emissions and improve the efficiency of freight trucks on the road now.
Our report highlights a suite of practices that fall under the following four categories:
Improve vehicle efficiency
Improve capacity utilization
Promote fuel efficient driving behaviour
Adopt fuel efficient vehicle routing practices
---
Pratiques pour améliorer l'efficacité du transport de marchandises par route
Occasions à court terme de réduire les émissions de GES des camions de transport de marchandises au Canada
Les camions de transport de marchandises représentent une source de plus en plus importante d'émissions de gaz à effet de serre (GES) au Canada et contribuent grandement à la pollution de l'air. Bien que des progrès importants aient été accomplis à l'aide de mesures pour réduire les répercussions du transport, l'efficacité des activités de transport de marchandises au Canada peut encore être améliorée de diverses manières. Bien qu'il soit important d'appuyer des solutions technologiques qui favorisent une transition vers des véhicules de transport de marchandises par route à émissions presque nulles et à zéro émission, il est également important de viser des améliorations de l'efficacité des véhicules qui seront avantageuses pour les camions de transport de marchandises déjà sur les routes et qui le resteront pendant de nombreuses années encore. Voilà pourquoi ce rapport présente des pratiques qui peuvent être adoptées par les exploitants de camions lourds au Canada pour diminuer les émissions et améliorer l'efficacité des camions de transport de marchandises qui circulent sur les routes.
Ce rapport présente un ensemble de pratiques qui se divisent en quatre catégories :
Améliorer l'efficacité des véhicules
Améliorer l'utilisation de la capacité
Favoriser les habitudes de conduite écoénergétique
Adopter des pratiques écoénergétiques d'acheminement des véhicules