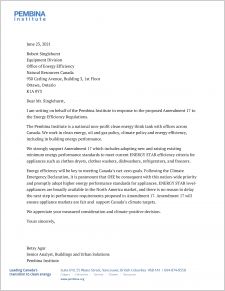 Betsy Agar, senior analyst, wrote to Natural Resources Canada's Office of Energy Efficiency on June 23, 2021 on behalf of the Pembina Institute in response to the proposed Amendment 17 to the Energy Efficiency Regulations.
The Pembina Institute strongly supports Amendment 17 which includes adopting new and raising existing minimum energy performance standards to meet current ENERGY STAR efficiency criteria for appliances such as clothes dryers, clothes washers, dishwashers, refrigerators, and freezers.
Energy efficiency will be key to meeting Canada's net-zero goals. Following the Climate Emergency Declaration, it is paramount that OEE be consequent with this nation-wide priority and promptly adopt higher energy performance standards for appliances. ENERGY STAR level-appliances are broadly available in the North America market, and there is no reason to delay the next step in performance requirements proposed in Amendment 17. Amendment 17 will ensure appliance markets are fair and support Canada's climate targets.