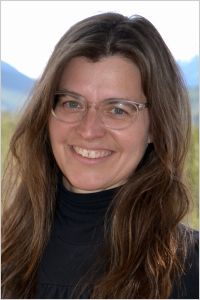 Betsy Agar is manager of the Pembina Institute's buildings program. She designs policy and programs for the retrofit of Canada's residential building stock.
Prior to joining the Institute, Betsy was a founding member of Renewable Cities at Simon Fraser University's Centre for Dialogue, where she collaborated with colleagues from around the world to expose barriers to implementation for communities fully powered by renewable energy.  Betsy is a building science engineer (PEO) and holds a Master of Applied Science from McMaster University. She also serves as a director on the board of Climate Action Edmonton.
Bringing her building science expertise together with her love of old cities, Betsy views rehabilitation as an opportunity to help practitioners, policy makers, and communities capitalize on energy-efficiency returns, make the urban "ecosystem" sustainable, and anchor a community's sense of place.
When Betsy's not working or volunteering, she is at home or travelling with her husband and teenagers — although her favourite place in the world is the South Magnetawan River, north of Parry Sound, Ontario. She has also developed an eclectic set of skills, such as producing podcasts, knitting, choral singing, and most recently swimming.
---
Contact Betsy Agar
cell: 604-245-1387 • email: betsya@pembina.org
Betsy Agar's Recent Publications