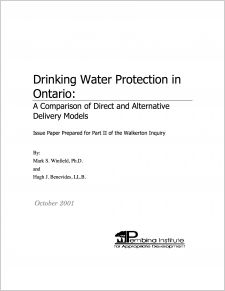 This issue paper was prepared for Part II of the Walkerton Inquiry. It compares the direct delivery of the protection of drinking water quality by a provincial government Ministry with delivery by non-governmental or other alternative service models. The comparison is based on the delivery of a multi-barrier drinking water protection system for municipal and non-municipal communal drinking water systems. Five alternatives to the current arrangements for drinking water protection in Ontario were examined:
the creation of a special purpose agency;
devolution to municipalities and private communal system owners;
the establishment of an independent regulatory commission;
transfer to a delegated administrative authority; and
improved direct delivery.
The base case and each of these alternative options were assessed against the criteria of performance, and governance and accountability.
The review of alternatives to direct delivery provided no conclusive evidence that any of the available options would result in better outcomes than a direct delivery approach. Significant improvements in the protection of Ontario's drinking water can be achieved without major structural reforms that challenge existing constitutional, political, administrative and legal principles, would involve considerable transitional costs and risks, and are unlikely to produce better outcomes.