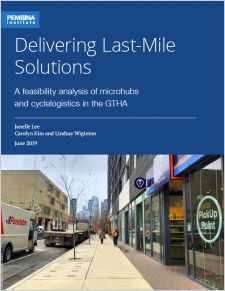 In order to keep up with increasing demand for goods movement while mitigating the negative impacts of freight activity in dense urban areas, some businesses are rethinking their delivery operations. This report focuses on two emerging operating models that are being integrated into the goods movement network in North American and European cities to improve the efficiency of deliveries in congested urban areas: delivery microhubs and cyclelogistics.
The purpose of this report is to assess whether alternative operating models such as microhubs and cyclelogistics are feasible, and secondly help clarify the conditions under which microhubs and cyclelogistics are successful. Based on delivery practices in other jurisdictions and findings from the Pembina Institute's research and modelling work, microhubs and cyclelogistics have the potential to reduce operational costs for businesses and mitigate freight emissions in the Greater Toronto and Hamilton Area (GTHA).
The report also gives recommendations on how businesses and municipalities can support the implementation of microhubs and cargo cycles.