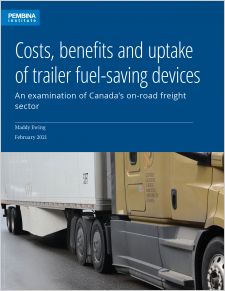 Over the past 10 years, regulations and the emergence of fuel-efficient technologies have played an important role in reducing the greenhouse gas emissions of new gasoline and diesel on-road heavy-duty trucks (such as highway tractors, buses and dump trucks) in the United States and Canada. 
To improve fuel efficiency, trucking fleets across Canada are outfitting their trailers with fuel-saving devices, such as aerodynamic add-ons or low rolling resistance tires. These devices help improve fuel efficiency by reducing drag and rolling resistance, or by reducing the amount of weight that a tractor needs to pull. They are among the many ways to decarbonize the freight sector, in particular the heavy-duty trucking sector, alongside efforts to reduce freight trips, the shift toward low- and zero-emission vehicles, and government policies such as the Clean Fuel Standard and the Heavy-Duty Vehicle and Engine Greenhouse Gas Emission Regulations. 
But how widely are fuel-saving devices adopted in the Canadian trucking industry? And what is needed to encourage greater adoption in the future? 
A recent study, conducted by the Pembina Institute between October 2020 and January 2021, sets out to uncover the current rates of adoption of trailer fuel-saving devices in Canada, their various costs and benefits, and determine trends in rates of adoption across different segments of Canada's on-road freight sector (e.g. large vs small fleets, for-hire vs private fleets, etc.). 
This survey is the most comprehensive study on fuel-saving devices in the sector to date. Based on a series of stakeholder consultations with key actors from Canada's trucking sector, including online surveys completed by 63 participants, two working group discussions, and three case studies, several key themes emerged, including an indication that adoption of most devices is low and that further supports are required to promote greater adoption of these devices in Canada. 
 Findings
Adoption of most fuel-saving devices is low among Canadian heavy-duty vehicle (HDV) fleets.

Nearly three-quarters of survey respondents have not installed underbody fairings, rear fairings, wide base single tires or gap reducers on any of their trailers. Although low rolling resistance dual tires and side skirts are shown to be effective interventions, 25 per cent of respondents have not used them. Approximately half of survey respondents have not installed tire pressure monitoring or automatic inflation systems. 

A few key devices continue to dominate the trailer fuel-saving device market in Canada.

When fleet operators do choose to integrate devices into their operations, low rolling resistance dual tires and side skirts continue to be two of the most widely adopted trailer fuel-saving devices among trucking fleets in Canada. While not often included in previous studies on trailer fuel-saving devices, lightweight components were also identified as one of the most popular technologies. 

Long-haul fleets exhibit higher rates of adoption of trailer fuel-saving devices than regional-haul fleets.

With long-haul fleets typically covering greater distances at highway speeds and consuming more fuel in comparison to regional-haul fleets, the benefit of these devices, such as a reduction in fuel costs, is greater. 

Fleets with trailer fuel-saving devices commonly report fuel savings of 1-2%.

Only a small percentage of fleets surveyed reported fuel savings above 5% for any of the trailer fuel-saving devices. Fleet operators noted in the working group meetings, however, that assigning fuel savings can be challenging, as it can be difficult to isolate individual impacts when multiple devices are used. 

The payback period of fuel-saving devices for trailers is highly variable.

The diversity of Canada's trucking sector means that there are significant variations in operations and inevitably a range in payback periods. For example, a fleet that travels longer distances may see a relatively fast return on investment due to greater amounts of fuel consumed over a short period of time. 

Complementary financial and non-financial supports are required to promote greater adoption of fuel-saving devices for trailers in Canada.

To complement GHG emission standards, fleet operators continue to express the need for government funding support to reduce the payback period of certain devices, improved accessibility of credible and applicable information and real-world testing of the efficacy of fuel saving devices under Canadian conditions.