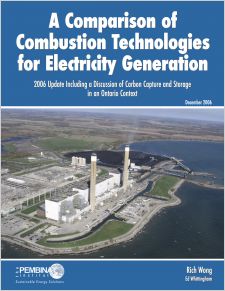 This report updates the Pembina Institute's 2001 publication A Comparison of Combustion Technologies for Electricity Generation, republished in 2004 as Appendix 4 in Power for the Future: Towards A Sustainable Electricity System in Ontario.
The review concludes that none of the coal-fired options are as environmentally favourable as the natural gas-fired options. Among the coal-fired options, IGCC showed the best opportunity for environmental performance, although it still has high CO2 emissions relative to natural gas-fired options.
The review also notes that IGCC technologies may theoretically be combined with carbon capture and storage (CCS) technologies. However, the review concludes that carbon storage options for Ontario are unproven and speculative, and that, given the extent of the research required to demonstrate their viability, they cannot be considered a serious possibility within the current 20-year electricity policy planning horizon.