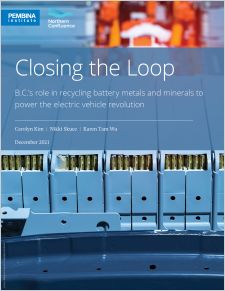 The number of electric vehicles (EVs) hitting the road in B.C. — and the rest of North America — is surging ahead, and sales growth is accelerating. Policies like B.C's zero emission vehicle mandate coupled with growing consumer interest are driving a transition away from internal combustion engine vehicles and toward EVs, with B.C. leading North America in sales. In response, global automakers are rapidly pivoting their vehicle line-ups, and demand for the metals and minerals needed for EV batteries is projected to grow rapidly. 
Given that EV batteries have an average lifetime of 8 to 15 years, B.C.'s role as an early adopter of EVs creates a significant economic and environmental opportunity: to secure a regional leadership role — and first-mover advantage — in recycling metals and minerals from EV batteries at end-of-life, closing the loop and minimizing the need for raw resource extraction. 
With investments now in aggressive EV adoption, public transit infrastructure, and EV battery recycling capabilities, B.C. can be strategically positioned to be a leader in the low carbon future. 
To capitalize on this position, the government of B.C. should: 
Assume a leadership role in engaging with neighbouring jurisdictions to ensure efficient and safe collection and transport of batteries for recycling purposes, including across borders. 
Establish clear guidelines and an efficient review process for battery recycling facility permitting and land use. 
Accelerate the timeline for implementing provincial regulations from 2026 to 2023 in order to address a growing stock of end-of-life batteries and position the province as a first-mover and regional leader. 
Support pilot projects that explore solutions to various challenges, such as Quebec's support for a "battery passport" pilot to trace metals and minerals from mining and processing through to their use in batteries. 
Work with the federal government to establish content targets for incorporating recycled metals and minerals into battery cells produced in Canada, closing the loop on the materials chain and spurring investment in recycling capacity. 
Work with the federal government to establish battery labeling standards to ensure cell chemistry information can be used to simplify end-of-life recycling.