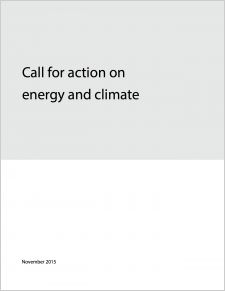 Update (December 18, 2015): The B.C. Call for Action on Energy and Climate has moved. Visit the new, improved page for an updated list of signatories and more information.
Companies, organizations and cities today released a joint declaration calling for bold action on energy and climate by the British Columbia government.
We support the B.C. government's commitment to implement a new Climate Plan. We expect the plan will include ambitious new actions that lead to:
A strong economy, with opportunities for all British Columbians;
A province powered by clean energy;
A more equitable society;
Cleaner air and water, supporting healthy communities and nature; and
Protection from a changing climate.
We can't afford to delay. Now is the time to lead the transition to a clean energy economy.
Some of the signatories have also endorsed a more detailed Call for Action on Energy and Climate in the Building Sector.
Signatories:
Aeolis Wind Power
B.C. Government & Service Employees Union
B.C. Sustainable Energy Association
BCIT School of Construction and the Environment
Blue Fuel Energy
Blue Green Canada
Blue Sky Architecture
Board of Change
Boralex
Brian Menounos (Canada Research Chair in Glacier Change)
Brooks Corning
Bruce Haden Architect Ltd.
Building Balance Consulting Inc
Canadian Green Building Council
Canadian Hydrogen Fuel Cell Association
Canadian Methanol
Canadian Wind Energy Association
CanPHI West
Capital Home Energy
Capture Energy
Cascadia Architects
Cascadia Green Building Council
Cascadia Metro Vancouver collaborative
Centra Windows
Chinook Power Corp.
Citizen's Climate Lobby
City Green
City of Powell River
City of Rossland
City of Vancouver
City of Victoria
CityStudio
Clean Energy BC
Clean Energy Canada
Climate Smart
Colborne Architectural Group
Columbia Institute
Communities + Architecture Inc.
Concert Properties
Cover Architectural Collaborative Inc.
CPAWS, BC Chapter
Cypress Mountain
Dialog
Dovetail Consulting Group
DTA
Earnest Ice Cream
Easy Park
Ecofish Research Ltd.
eco-Options Energy Cooperative
Ecotrust Canada
Elemental Energy
Elemental Energy Advisors Ltd
Energy Services Association of Canada
Energy Solutions for Vancouver Island
ENERLYTICS ENGINEERING LTD.
EnerSys Analytics
EnviroMez
Environmental Defence
Ethical Profiling Ltd.
Euroline Windows
Evans Architecture
Fairware
False Creek Collision
Fort Properties
Georgia Strait Alliance
Green Jobs BC
GROK Energy Services
HCMA Architecture + Design
Hemlock Printers Ltd.
Innergex Renewable Energy Inc.
Integral Group
International Living Future Institute
Ions Engineering
Jawl Properties
Jeremy Fisher, Musician
Joel Solomon, Renewal Funds
Julian Griggs & Associates Ltd
Kanaka Bar Indian Band
Kisik Arieal Survey Inc.
Kootenay Energy Advisor Ltd
Light House Sustainable Building Centre
Lund Harbour Edge Holdings
Mayor Richard Walton (on behalf of the District of North Vancouver)
McLennan Design
MHPM Project Managers
Michael O'Connor (Naikun Wind Energy Group Inc.)
Michel De Spot
MKI Wind Energy
Mountain Equipment Co-op
MoveUP
NEI Investments
NexBuild Construction Corporation
One Seed architecture+design
Pacific Coach Lines Ltd.
Pacific Institute for Climate Solutions
Pacific Spirit Investment Management Inc
Peace Energy Renewable Energy Coop
Pembina Institute
Performance Construction
Perkins+Will
Prism Engineering
Quantum Properties
Rangate
RDC Fine Homes
Real Estate Foundation of British Columbia
Recollective
Recycling Alternative
Red Door Energy
Remi Charron Consulting
Renew Energy
Renewable Cities
Responsible Investment Association
Rider Consulting Services
Ross Beaty
Royal Architecture Institute
Schein Foundation
Sea Breeze Power Corp.
SFU Centre for Sustainable Community Development
Sholto Design
Shore Energy Solutions Ltd
Sierra Club BC
Sitka Foundation
Sorgent.e Hydro Canada Corp.
Soukup America Inc.
Sts'ailes Development Corporation
Stuwix Resources
Sunbright Solar
Synergist Window Company
T&T Supermarket
TDB Consultants Inc.
The David Suzuki Foundation
The House Whisperers
The Kerrisdale Lumber Company
The Natural Step
Treen Safety
UniverCity, SFU
University of British Columbia
Urban Development Institute
Urban Harvest Organic Delivery (Kelowna)
Wade Davis
Watershed Watch Salmon Society
West Coast Environmental Law
Westwood Fine Cabinetry
Whistler Centre for Sustainability
Wildsight
Ziptrek
For more information and updates on the Climate Leadership Plan, please sign up at ClimateLeadership@pembina.org.