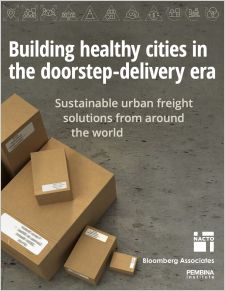 Around the world, cities have undergone more than one year of COVID-19-related lockdowns and stay-at-home requirements. The pandemic has dramatically changed the daily lives of citizens and how we move people and goods within cities.
What has become clearer during this time is that deliveries, and workers along the full supply chain of goods, are essential to everyday life, and to keeping businesses afloat and supporting economic recovery.
But about 90 percent of the world's transport energy continues to rely on fossil fuels. What does that mean within cities? With increasing demand for e-commerce delivery, we will see more vehicles on the road — the World Economic Forum predicts that this demand will result in 26 percent more delivery vehicles in inner cities by 2030. In turn, without effective intervention, that is expected to lead to a rise in both emissions and traffic congestion of more than 30 percent in most populous cities around the world.
As cities look beyond emergency or temporary measures to respond to community needs, they must develop their local economic recovery and transportation plans with climate resiliency, equity and safety concerns in mind to create vibrant, healthy, and sustainable societies in the medium- and long-term. This will help create the cities we want and need. Taking action to manage urban freight has the potential to significantly impact city life in multiple ways: Reduced air pollution and carbon emissions; improved road safety; economic recovery; and environmental and social justice.
Recommendations
The good news is that effective interventions exist within the purview of cities to mitigate the potential social and environmental impacts of urban freight and help local businesses and communities thrive. This report for city planners and policy-makers, prepared by Pembina Institute for the National Association of City Transportation Officials (NACTO) and Bloomberg Associates, summarizes six solutions cities around the world are already piloting to address urban freight challenges and four bold new ideas that represent the kind of innovative thinking required by cities going forward. These 10 initiatives may serve as models for other jurisdictions: 
Solutions ready for pick-up
Delivery microhubs are a type of urban consolidation center located between major suburban warehouses and final delivery destination points. The additional mid-way delivery point means shorter delivery distances to the final destination, making a shift to more nimble, low-carbon vehicles such as electric vehicles and electric-assist cargo bikes possible.
Parcel lockers are very small storage units located close to the final delivery point in urban or rural areas, which can be conveniently accessed by customers. They can be placed in residential or commercial buildings, or in public spaces. Parcel lockers provide a way to deliver parcels more efficiently. Couriers can reduce unloading times, the time spent looking for parking and time spent occupying parking spaces by delivering packages to one secure location instead of several doorsteps.
Curbside management tactics are essential as competition for the curb grows. Under this umbrella, there are three main strategies that could be combined or applied independently to manage activity at the final destination of last-mile deliveries: 1) allowing for deliveries during off-peak hours; 2) establishing and pricing courier loading zones; and 3) regulating the kinds of vehicles, such as allowing cargo bikes, in loading zones.
Low-emission zones are defined areas within cities where the use of emitting vehicles is regulated through restrictions or financial charges. LEZs provide a way for cities to pilot urban mobility solutions to tackle air pollution and congestion in a designated zone rather than across a whole city.
Zero-emission vehicles are defined as vehicles that produce zero tailpipe emissions. These include battery-electric vehicles (including e-bikes), plug-in hybrid electric vehicles, and hydrogen fuel cell vehicles. Given the readiness of current technology, the transition to ZEVs can start with ZEV adoption in urban delivery vehicles.
Digital support for main street through new government and private-sector initiatives, such as those that help create and enhance businesses' online presence and access digital logistics platforms and delivery options in order to compete with larger companies with established e-commerce resources.
Bold, new ideas
Waterway logistics hubs are distribution centers that float on inland waterways such as rivers, lakes, or canals. Operating like a microhub boat that follows a set route along the waterway, parcels are delivered to the hub and are sorted on board for cargo bike couriers to pick them up for the last-mile delivery to their destination.
The use of subsurface tunnel networks that link logistics hubs with residential and commercial buildings. Such a system could enable the delivery of packages around the clock without congesting city roads.
A tax or fee on goods purchased online that have high-carbon delivery methods. A flat rate or percentage fee could be applied at check-out for online purposes and then be ramped up the farther that the product is sourced from the destination or the faster the product is expected to arrive at its destination.
Digital tools and platforms that allow small businesses to reach more customers by decentralizing, automating, and digitizing their supply chain.