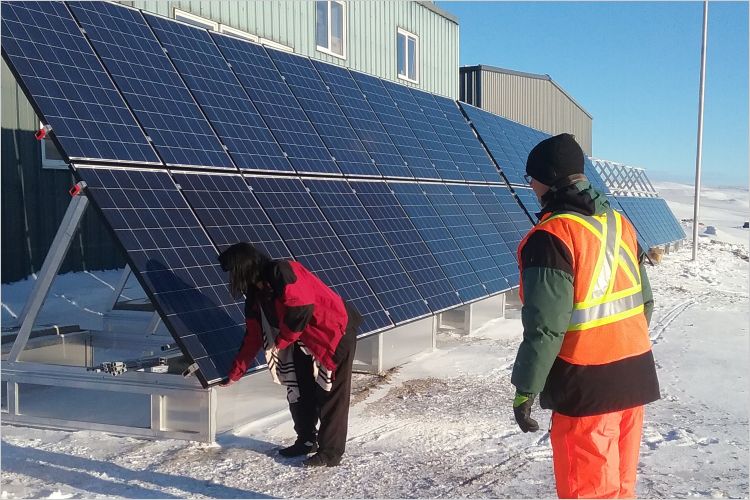 OTTAWA — Dave Lovekin, Director, Renewables In Remote Communities at the Pembina Institute, made the following statement in response to Microgrid Stability with Intermittent Renewables:
"We are very encouraged by the results and public sharing from the Government of Northwest Territory's study that shows that the grids that power remote communities can safely and reliably use much more clean energy. The study demonstrated that the current limit of using no more than 20 per cent renewable energy could increase to 45 per cent to as much as 75 per cent or more with battery storage and grid upgrades. This will influence the amount of clean energy used in many other remote communities in Canada now powered by diesel.
"The study clearly shows that the limit set by Northwest Territories Power Corporation can be raised significantly without jeopardizing their mandate to provide reliable power. The current limit of 20 per cent has prevented several remote communities from implementing renewable energy projects. This new study opens the door to looking at these current limits and implementing better policies that actively support clean energy development that can be led by Indigenous proponents.
"While this study's findings are positive, it is also clear that increasing renewable energy will impact how utilities do business. As communities develop more renewable energy projects, utilities will need new opportunities to earn revenue while keeping rates low. Utilities, utility regulators, and governments must come together to craft solutions that allow utilities to accelerate, rather than hinder, the clean energy transition.
"Canada's 2030 commitment to end reliance on diesel electricity requires renewable energy integration limits to be significantly increased. Other utilities serving remote communities — including Qulliq Energy Corporation , B.C. Hydro and Hydro Quebec — could take note of this research, undertake and publish similar studies to determine safe increases that would support more Indigenous-led projects."
-30-
Contact
Victoria Foote
Senior Manager, Strategic Communications, Pembina Institute
647-290-9384
Background
Blog: How to boost renewable energy integration in remote communities
Blog: When business-as-usual is a barrier to clean energy
Blog: The future of the electric utility in Canada's remote communities