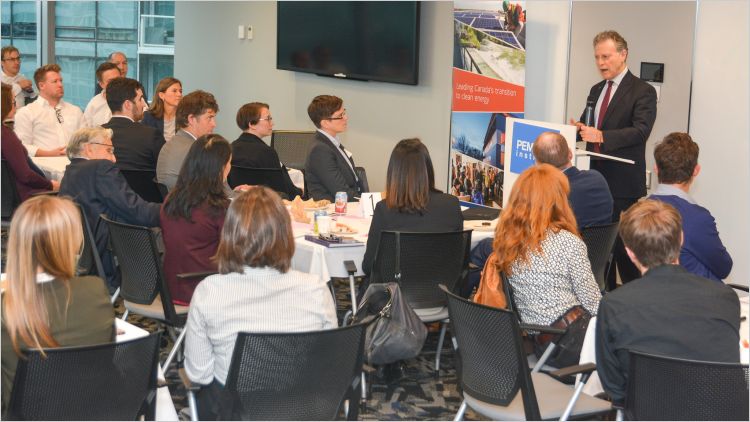 TORONTO — Two flagship projects launched by the Pembina Institute were honoured today as recipients of the 2020 Canada's Clean50 Top Project award. The Business Coalition for a Clean Economy and the Alberta Narratives Project are among 20 projects receiving the award. 
The Business Coalition for a Clean Economy was formed to realize a shared vision of a diversified, low-carbon economy powered by renewable energy, and healthy, resilient communities and ecosystems. The coalition unites companies to champion a clean economy, engage in policy design, and inspire action. Already the coalition has more than 45 members, representing over 13,000 jobs and $4.3 billion in annual revenue.  
The Alberta Narratives Project was co-convened with the Alberta Ecotrust Foundation, as part of Climate Outreach's Global Narratives Project. Involving more than 20 core organizations and funders, the initiative convenes important climate and energy conversations with Albertans from all backgrounds at a time of heightened polarization around climate and energy issues. The project aims to depolarize Albertans by finding common ground and shared values through open conversations about climate and energy. The Pembina Institute is committed to creating the space for pragmatic, solutions-based actions around climate and energy.
Quick facts
 Arcteryx, Ballard Power, Carbon Engineering, Earnest Ice Cream, Hootsuite, Innergex Renewable Energy, Lush Fresh Handmade Cosmetics, MEC, Modo Co-operative, Nature's Path Foods, Persephone Brewing, and Vancouver Film Studios are among the household brands and sector leaders who are members of the Business Coalition for a Clean Economy. 

The Alberta Narratives Project is a citizen science project, conducted by 75 organizations across Alberta and reflects 55 discussions with 482 Albertans to gain a true reflection of common values and language across the province. The findings of the two reports are shared on an ongoing basis with support from various communities across Alberta. 
Quotes
"From concrete to cosmetics, beer to buildings, film to finance, and transportation to tech, leading companies from diverse industries are coming together to champion Canadian climate action. The members of the Business Coalition for a Clean Economy believe that building a sustainable economy, powered by clean energy, is key to ensuring Canada's future prosperity in a rapidly changing world." 
— Karen Tam Wu, B.C. regional director, Pembina Institute
"This award is a testament to the importance of having more productive and non-polarizing conversations in Alberta around energy, climate change and the environment. We are honoured to be recognized amongst such exceptional peers across Canada."
— Julia-Maria Becker, clean economy director, Pembina Institute
-30-
Contact
Stephen Hui
Senior communications lead, B.C.
778-987-7654
Tw: @StephenHui
Kurt Archer
Communications lead, Alberta
587-585-4522
Background
Reports: Download the first two reports on the Alberta Narratives Project
Website: Learn more about the Business Coalition for a Clean Economy
About the Pembina Institute
The Pembina Institute is a non-profit think-tank that advocates for strong, effective policies to support Canada's clean energy transition. We have offices in Vancouver, Calgary, Edmonton, Toronto, and Ottawa. Learn more: www.pembina.org
About Climate Outreach
 We're a team of social scientists and communication specialists working to widen and deepen public engagement with climate change. Through our research, practical guides and consultancy services, our charity helps organisations communicate about climate change in ways that resonate with the values of their audiences - in particular audiences that do not consider themselves environmentalists. We have 15 years experience working with a wide range of international partners including central, regional and local governments, international bodies, academic institutions, charities, businesses, faith organisations and youth groups.
About Delta Management Group / Canada's Clean50:
Leading sustainability and clean tech search firm Delta Management Group in 2011 founded, and remains the steward of the Canada's Clean50 awards.  The awards were created to annually identify, recognize and connect 50 sustainability leaders, 10 Emerging Leaders and Top 20 Projects from every sector of Canadian endeavor. The firm also annually convenes the Clean50 Summit, in order to facilitate understanding, collaboration and innovation in the fight to keep human caused climate impacts below 1.5 degrees.  Learn more: www.clean50.com