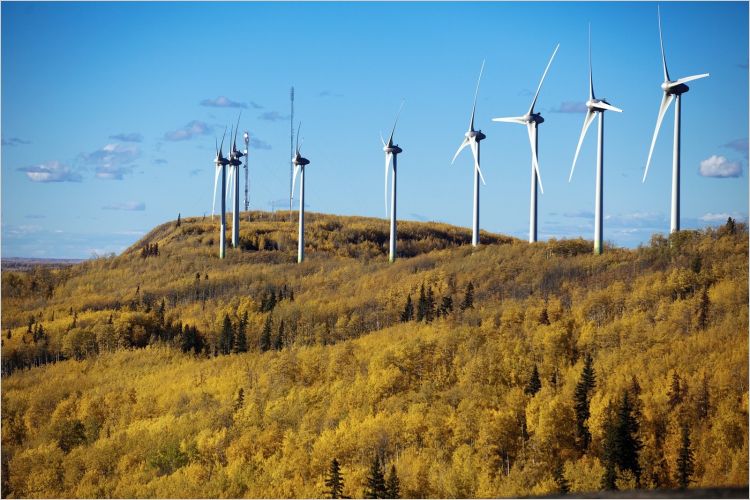 VANCOUVER — A new report from the Pembina Institute shows that Indigenous communities have been largely prevented from moving ahead with renewable energy projects despite the B.C. government's mandates to lower emissions by 40 per cent below 2007 levels in 2030, support the transition off diesel fuel in remote communities, and advance reconciliation.
Modelling analysis contained in First Nation Leadership in British Columbia's Renewable Energy Sector indicates that substantial growth — as much as 27 per cent — in renewable electricity sources will be required to meet B.C.'s 2030 GHG emission reduction targets. This is a clear opportunity for First Nations — who already own, operate or co-partner nearly 80 grid-tied renewable energy projects — to participate in the transition to a decarbonized economy while moving toward energy sovereignty.
A key barrier to First Nations participation is BC Hydro's recent forecasting of energy supply and demand, which indicates that no new energy will be required until 2031. However, Pembina Institute's analysis shows that new energy will be needed to meet both demand and climate goals before 2031. The reason for the differing conclusions is that the crown utility is not mandated by the B.C. Utility Commission to account for the province's emission reduction targets. Consequently, BC Hydro's energy plan fails to support B.C.'s climate goals. Ultimately, however, the province is responsible for directing both the B.C. Utility Commission and BC Hydro to account for legislated targets.
One of the recommendations in the report is that the B.C. Utilities Commission direct BC Hydro to include climate targets in its resource planning, which will only occur if the commission is required to do so by the province.  Incorporating emission reductions in their forecasting will reveal the need to substantially increase capacity for renewable energy generation and open the door for Indigenous-led projects to meaningfully participate in the renewable energy sector. By moving in this direction, the B.C. government can advance numerous benefits — environmental, social, economic, and rights-based — that support Indigenous self-determination and healthy, sustainable communities as is legally required by B.C.'s Declaration on the Rights of Indigenous Peoples Act.
Quotes
"First Nations across B.C. are organizing around energy sovereignty and self-determining what our priorities are and how best to achieve them. This includes exploring what a First Nation Power Authority could look like, one that will serve our interests — by First Nations, for First Nations. The establishment of a First Nation Power Authority model in B.C. would build expertise, capacity, and policy advocacy experience among First Nations. All are critical to advancing Indigenous energy sovereignty, economic reconciliation, and providing crucial input to provincial energy policy. "
— Cole Sayers, New Relationship Trust  
"With B.C. behind on its targets to achieve 40 per cent GHG reduction by 2030, there is an opportunity to establish new energy policy that prioritizes Indigenous-led renewable energy projects. Considering the B.C. government legislated the UN Declaration on the Rights of Indigenous Peoples last year, looking to First Nations for leadership and rightful development of renewable energy projects to achieve these goals is paramount."
— Dave Lovekin, director, Renewables in Remote Communities, Pembina Institute
Quick facts
In B.C., First Nations own, operate or co-partner 79 grid-tied renewable energy projects. Combined, these projects deliver 14 per cent of B.C.'s electricity. Most are small-scale hydro, solar, wind or bioenergy projects.
New electricity required to meet B.C.'s 2030 GHG targets represents potential growth of 235 per cent in installed capacity of current First Nation renewable energy projects, which could attract some $8 billion in private investments.
There are at least 13 First Nation grid-tied renewable energy projects, representing 807 MW of capacity (enough electricity to power 200,000 homes) that are shovel-ready and can be developed and sell power to the grid. Yet these projects are not moving forward because of a lack of government policy that would enable their advancement. 
-30-
Download a copy of First Nation Leadership in British Columbia's Renewable Energy Sector.
Contact
Victoria Foote
Senior Manager, Strategic Communications, Pembina Institute
647-290-9384
Cole Sayers
csayers@nrtf.ca
Director of BC Indigenous Clean Energy Initiative, New Relationship Trust
604-925-3338
Background
Backgrounder: Diesel Subsidies — Simplified, Part I