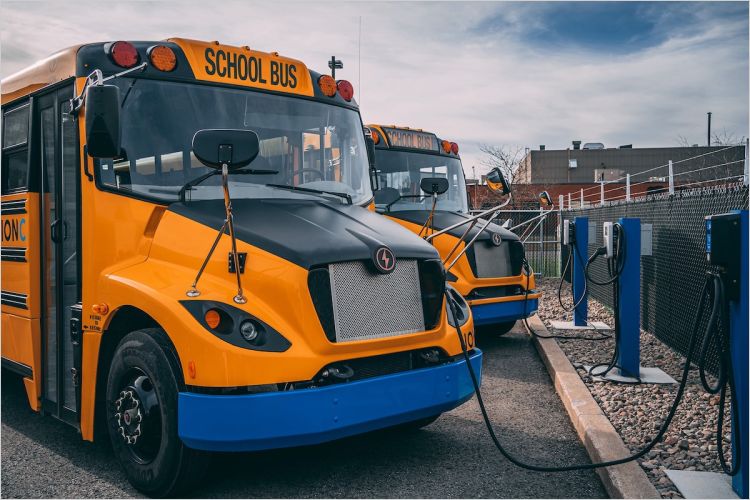 TORONTO — The Pembina Institute has released a new report that paints a clear picture of the financial, environmental, and health benefits of electrifying Ontario's school bus fleets.  With global sales of electric buses projected to reach US$3.1 billion by 2030, and a similar growth spurt underway in the North American market, Ontario is presented with a unique opportunity to revive its heavy-duty vehicle sector by investing in the production of electric school buses.
Once an economic powerhouse, the province's heavy truck and bus industry practically collapsed after the 2008 financial crisis, and the sector is still operating at only 10 per cent of its pre-2008 production levels. Small- and medium-sized enterprises (SMEs), once central to the growth of Ontario's heavy-duty vehicle sector, have been grappling with unpredictable market conditions ever since. Of the province's dozen or so businesses that manufacture heavy trucks (or truck bodies), most employ fewer than 50 people.
By taking advantage of the surge in demand, Ontario can help revive and stabilize Ontario's commercial vehicle manufacturing industry by investing in electric school bus production and incentivizing fleet purchases.
To date, however, the province has failed to adequately support the manufacture and uptake of zero-emission heavy vehicles, including school bus fleets over which the province has control. Programs to upskill the labour force for jobs in the zero-emission heavy-duty vehicle sector have ended and are yet to be renewed even though significant increase in demand for specialized workers is widely anticipated. In addition, demand-management policies have been overlooked despite evidence that policies such as purchase incentives are more effective at growing the domestic market than are subsidies targeting manufacturers.
Of all categories of large trucks and buses, school buses are one of the easiest, and most cost effective, to electrify. Pembina's modelling shows that transitioning away from diesel-fuelled buses will lead to a net increase in provincial GDP, job creation, positive health outcomes thanks to cleaner air, and lower carbon emissions in a province where the single largest source of greenhouse gases is transportation at 32 per cent of total emissions.
Quotes
"As Canada's automotive hub, Ontario stands alone among provinces as being especially well positioned to benefit from the global transition to zero-emission vehicles of all sizes. The province already has the infrastructure and labour force needed to respond to the rapid growth we're seeing in the electric vehicle marketplace.
"This is not the time to wait on the sidelines while other regions respond to the spike in demand. Instead, the expertise that has developed in the heavy-duty vehicle industry over many years should be re-directed toward clean energy transportation, starting with school buses, which are one of the easiest to switch over to electric.
"By encouraging uptake of electric school buses, the province can show that it supports small- and medium-size enterprises and the heavy-duty vehicle sector. The provincial government can also show that it is taking action on reaching climate goals and promotes healthy communities."
— Chandan Bhardwaj, Senior Transportation Analyst, Pembina Institute
Quick facts
For every dollar invested in the electric school bus sector, as many or more jobs are created compared to light-duty vehicle manufacturing.
If 65 per cent of Ontario's school bus stock is electrified by 2030 (which is Quebec's target for school bus electrification), multiplier effects along the supply chain would result in more than 13,000 jobs and generate nearly $2 billion in economic output in Ontario.
According to Health Canada, diesel exhaust is carcinogenic and has been linked to increased risk of lung cancer. Diesel exhaust-related health costs are estimated to be about $2.3 billion annually
A single diesel-fuelled school bus emits 27 tonnes of CO2e annually nearly all of which would be eliminated by replacing it with an electric version.
-30-
Download Power Boost: Electric school buses and the revitalization of small- and medium-size businesses in Ontario's auto industry
Contact
Victoria Foote
Communications Advisor, Pembina Institute
647-290-9384
Background
Report: Building a zero-emission goods-movement system: Opportunities to strengthen Canada's ZEV freight sector
Report: A guide to electrifying urban delivery fleets in Canadian cities: Why and how last-mile delivery companies should make the switch to electric vehicles
Fact Sheets: Decarbonizing medium- and heavy-duty vehicles