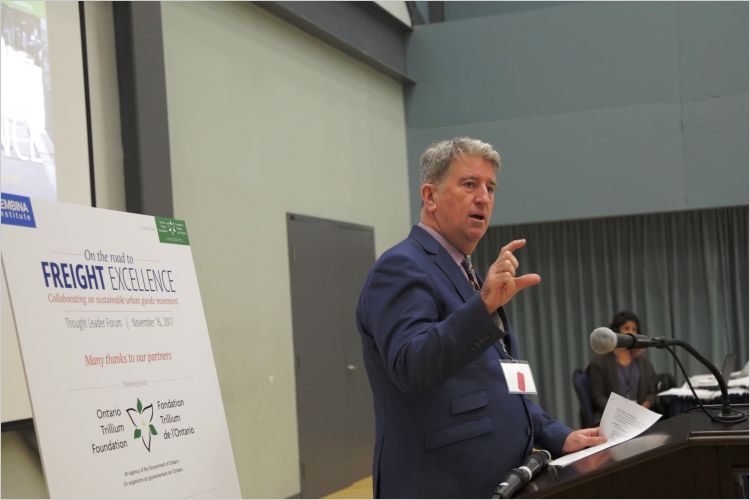 MISSISSAUGA — Nearly 60 thought leaders gathered yesterday at the Living Arts Centre in Mississauga for a one-day freight forum hosted by the Pembina Institute, with lead funder Ontario Trillium Foundation. Freight emissions are growing across Canada, and the day aimed to understand the current state of play in the sector, and to identify short and long term goals to address emissions.
Speakers from Natural Resources Canada, Ontario Ministry of Transportation, and Transport Canada presented emerging policies and opportunities around freight efficiency, including greening freight and the provincial multimodal plan. Representatives from the Conference Board of Canada and CN also spoke to technologies and research in the sector.
Dr. Sabbir Saiyed from the Region of Peel also gave an overview of the upcoming Smart Freight Centre which will help drive freight solutions and continue to convene thought leaders around goods movement. The engagement from the day proved there is momentum in the sector, and continued collaboration is necessary to achieve emissions in the sector.  
Quick facts
At 24 per cent, transportation is the second highest source of emissions in Canada, and freight is the fastest growing segment within the sector.
Goods movement alone  — including road, air, marine and rail — accounts for 10 per cent of Ontario's total emissions.
Historically, passenger emissions have been the largest source of transportation emissions in Canada, but freight is projected to rise, and surpass passenger emissions by 2030.
Quotes
"With its goods movement strategic plan, the Region of Peel has proved itself a thought leader in freight efficiency. The region is proud to have hosted this forum."
— The Honourable Dipika Damerla, MPP, Mississauga East-Cooksville
"Freight emissions are growing across the country, but we also know there are a suite of solutions we can implement today. The excitement and ideas shared at the forum are a testament to that and we look forward to taking the opportunities identified today to collaborate and start to work on solutions."
— Dianne Zimmerman, policy director, transportation and urban solutions, Pembina Institute
-30-
Visit the Pembina Institute's website to learn more about the forum, On the road to freight excellence.
Contact
Kelly O'Connor
Communications Lead, Pembina Institute
416-220-8804
Background
Report: State of Freight (June 2017)
Blog: It's time for a freight strategy in Toronto (November 2017)
Report: Cyclelogistics (October 2017)
Report: Local Planning for Goods Movement in Ontario (October 2017)