Nov. 16, 2017
- Mississauga, ON
conference
- Invitation only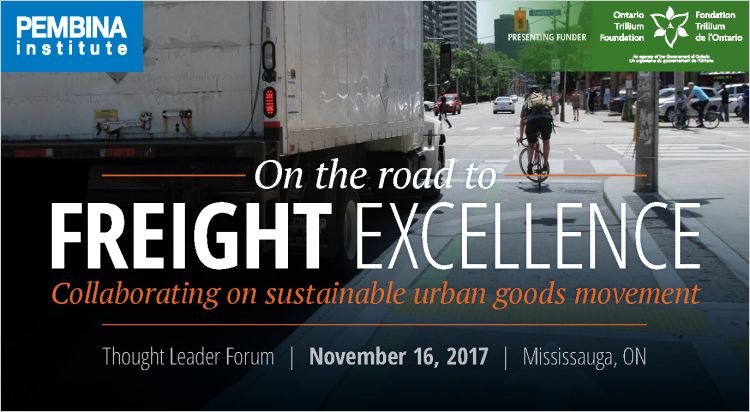 The Pembina Institute is convening leaders to envision a path towards excellence and efficiency in urban goods transportation. As a leader in advancing the transition to a clean energy future, we are committed to helping move people and goods in clean, smart and efficient ways.
This invitation-only freight Thought Leader Forum will convene industry and business leaders, local, regional, provincial and federal policymakers and planners, academics and non-governmental experts.
Together we will work to:
Understand the current state and emerging trends in urban sustainable goods movement
Identify key areas for additional research
Identify opportunities to collaborate on this research to achieve excellence in a carbon constrained environment
A rough agenda includes:
Breakfast and registration
Welcome and introductions
Panel discussion: Current state and emerging trends in freight efficiency and innovation
Lunch
Workshop sessions focused on urban freight solutions
Closing remarks
Ontario Trillium Foundation recognition event and reception (starting at 5 p.m., and optional)
This work has been generously funded by the Ontario Trillium Foundation:
An agency of the Government of Ontario, the Ontario Trillium Foundation (OTF) is one of Canada's largest granting foundations. With a budget of over $136 million, OTF awards grants to some 1,000 projects every year to build healthy and vibrant Ontario communities.