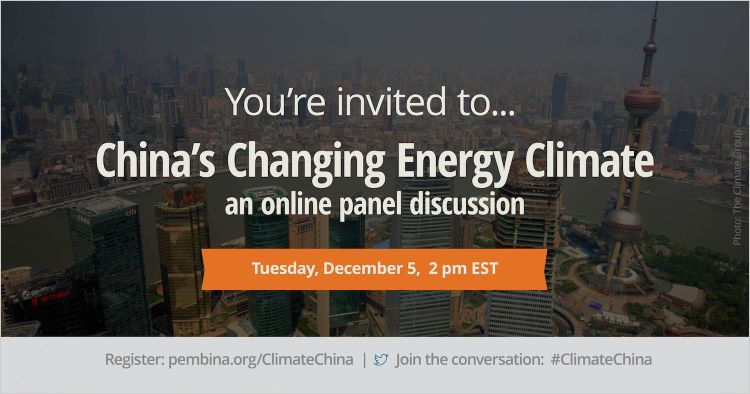 Update: The webinar has ended. Check out the video recording, slides, and Twitter recap.
---
VANCOUVER and CALGARY — With the Trump administration in the U.S. taking steps backward on climate action, China is signaling an intention to lead — with the potential for significant impacts on both global carbon emissions and energy demand.
On December 5, the Pembina Institute presents China's Changing Energy Climate, an online panel discussion about key trends in China's energy market and their implications for Canada and the world.
China energy experts Jiang Lin and Ranping Song will share their insights on China's actions and the accelerating transition to renewable energy, state of climate policy, and public attitudes on these issues in China. A Q&A session will follow.
The public and media are invited to participate in this special one-hour event via web or telephone (free of charge), but online registration is required.
Event: China's Changing Energy Climate
Date: Tuesday, December 5, 2017
Time: 11 a.m. PST / 2 p.m. EST
Register: pembina.org/ClimateChina
Speakers:
Jiang Lin, Nat Simons chair in China energy policy, Lawrence Berkeley National Laboratory
Ranping Song, developing country climate action manager, World Resources Institute
Moderator: Sara Hastings-Simon, director of the clean economy program, Pembina Institute
Quick facts
Earlier this year, China announced plans to invest US$360 billion in renewable energy by 2020.
In 2014, China accounted for 22 per cent of global wind power generation and 16 percent of solar power generation, according to Lawrence Berkeley National Laboratory's China Energy Group.
China was responsible for 27.5 per cent of global energy-related carbon pollution in 2014.
China has implemented a cap-and-trade system in seven provinces and municipalities, with work in progress to launch a nationwide policy.
-30-
Share the event on Facebook: China's Changing Energy Climate
Join the conversation on Twitter: #ClimateChina @Pembina
Contact
Stephen Hui
Communications Lead, Pembina Institute
778-987-7654
stephenh@pembina.org
Tw: @StephenHui
About the Pembina Institute
The Pembina Institute is a non-profit think-tank that advocates for strong, effective policies to support Canada's clean energy transition. We have offices in Vancouver, Calgary, Edmonton, Toronto, and Ottawa. Learn more: www.pembina.org