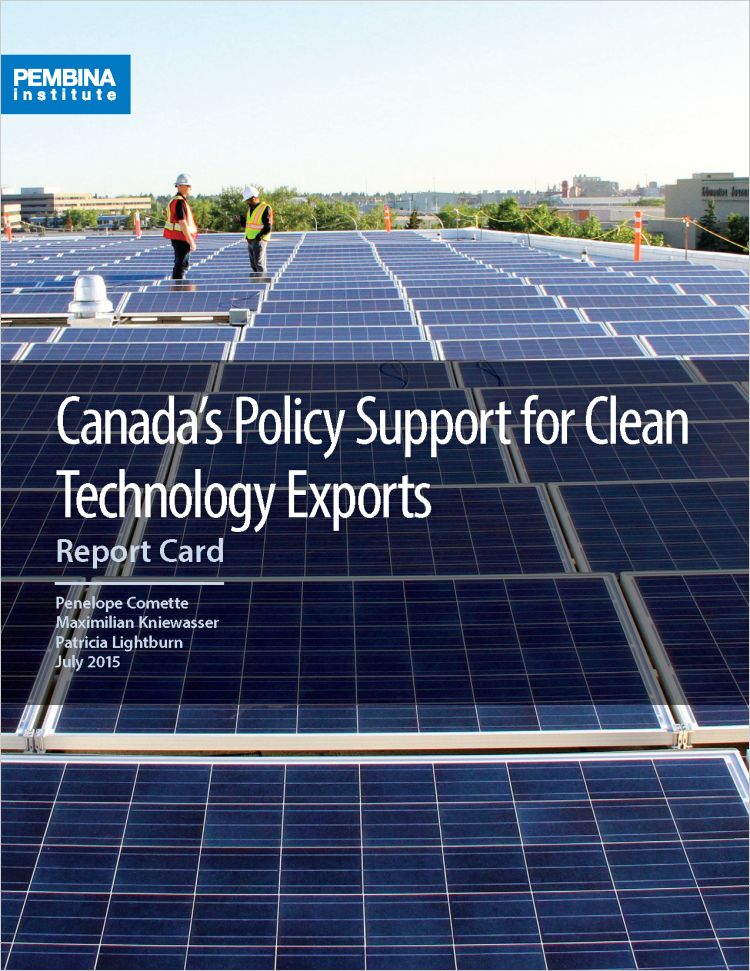 VANCOUVER — A new report examining policies and programs that support growth and development of companies in the clean technology (cleantech) sector has uncovered significant shortcomings in Canada's approach, and a lack of a clear policy framework federally and provincially.
The policy "report card" — authored by the Pembina Institute and commissioned by the Natural Resources Defense Council (NRDC) — examined three types of policy categories: those that support domestic deployment opportunities, those that encourage business growth and those that help companies access export opportunities.
Some provinces have more strategies and policies focused on supporting clean technology companies than do other provinces, with Ontario and Quebec leading the way. However, Canada lacks a comprehensive policy framework to support clean energy technology exports in general, at both the national and provincial levels. Instead, a patchwork of policies — which mainly support R&D but neglect commercialization and export — are scattered across the country. The result is that many clean energy companies with great innovative products could ultimately fail to get those products to market.
According to interviews the Pembina Institute held with Canadian clean energy business leaders, the majority say a national approach to carbon pricing, later stage funding, tax support and proactive export-market assistance are all needed to continue to develop this innovative industry. Only a small number of programs and policies are currently dedicated specifically to clean energy — most are spread across different industry sectors (for instance, tax incentives and business accelerator programs). Those policies and programs dedicated to clean energy trend toward R&D support and "greening" public buildings and vehicles.
This lack of comprehensive policy support has already begun to take a toll: Analytica Advisors estimates that Canada's market share of the global cleantech sector (which includes energy efficiency, green buildings and other products and services) has declined by 41 per cent since 2005, with Canada now the world's third greatest loser of cleantech market share since 2008. Meanwhile, in 2014, clean energy investments globally reached $270 billion with the global cleantech industry reaching nearly $1-trillion Canadian.
Quotes
"At a time when countries all around the world are looking to decarbonize their economies, Canada would be wise to invest much more effort in developing the kinds of policies that will bolster its cleantech sector — a market that is now worth close to $1-trillion Canadian globally.
"Canada has a history of successfully encouraging development in targeted industries, such as aerospace, nuclear, digital communications and the oilsands, to name a few. The cleantech sector is an innovative, globally growing marketplace. Our governments both federally and provincially need to begin to take a co-ordinated and comprehensive approach to building out the cleantech sector."
— Penelope Comette, Director, Clean Energy Economy, Pembina Institute
-30-
Visit the Pembina Institute's website to download a copy Canada's Policy Support for Clean Technology Exports.
Contact
Kevin Sauve
Communications Lead, Pembina Institute
604-354-2628
Background
Policy support for cleantech exporters
Note: This scan is the first step for assessing gaps in public policy. It does not include a detailed assessment of the effectiveness and/or stringency of any particular policy. A dark orange circle indicates several policies or programs are in place. It does not mean that a government has a comprehensive solution for that particular area, or that more should not be done in this area.