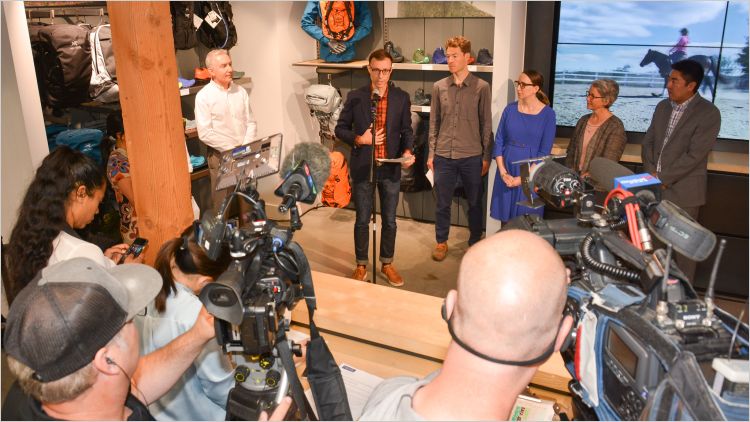 VANCOUVER / MUSQUEAM, SQUAMISH & TSLEIL-WAUTUTH TERRITORIES — Forty-five leaders in B.C.'s corporate sector are calling on all federal party leaders to renew Canada's climate leadership after the election.
As members of the Business Coalition for a Clean Economy, they've signed an open letter, affirming their support for a Canada-wide climate plan that makes good on our Paris Agreement commitment to limit global warming to 1.5–2°C.
"For all businesses, climate change is a risk to the bottom line," the business leaders state in the letter, sent today. "Taking action on climate now is also a once-in-a-generation opportunity for Canada to demonstrate real global leadership, create jobs, encourage innovation, build healthy and safe communities, and address the growing concerns surrounding waste."
The business leaders believe Canada's next climate plan should take action on the following priorities:
Reduce carbon pollution in all economic sectors
Invest in renewable energy
Invest in clean innovation
Put a price on carbon pollution
Invest in training for clean economy careers
Ensure transparency and accountability
Protect land and freshwater ecosystems
Increase investment in adaptation and resiliency
The letter is endorsed by Arc'teryx, Carbon Engineering, Hootsuite, Innergex Renewable Energy, Lush Fresh Handmade Cosmetics, Modo Co-operative, Nature's Path Foods, Persephone Brewing Co., Traction on Demand, and Vancity, among other leading companies. The firms represent a diverse set of industries, including brewing, clothing, construction, cosmetics, energy, film and television, food, financial, investment, manufacturing, outdoor recreation, technology, and transportation.
On Oct. 3, the Business Coalition for a Clean Economy received a 2020 Canada's Clean50 Top Project award.
Quick facts
The Business Coalition for a Clean Economy represents more than 40 member companies.
These companies earn more than $4.3 billion in combined annual revenues, and represent more than 13,000 jobs.
Quotes
"At Arc'teryx, we acknowledge that climate is at the heart of our collective core values. We believe that smart climate policy must play a central role in our next government's platform and remain a key priority throughout their leadership. This is imperative for not only the long-term health and viability of our planet, but also the protection of the wild spaces we treasure."
— Jon Hoerauf, president, Arc'teryx
"At Carbon Engineering, our technology to capture carbon dioxide directly from the atmosphere at large scale is widely seen as a world-leading capability. The support and leadership of Canada has helped us to develop our technology, and a strong commitment to a clean economy will enable the development of new economic sectors in Canada, while helping address the global challenge of climate change mitigation. We urge all parties to commit Canada to leadership in climate change mitigation and seize the resulting economic opportunity."
— Steve Oldham, CEO, Carbon Engineering
"The climate crisis isn't a challenge that anyone can tackle on their own. We're working hard and challenging ourselves to change our operations, to measure and lower our carbon footprint each year. Now we need to see bold climate leadership from our federal government."
— Benjamin Ernst, co-owner, Earnest Ice Cream
"Climate action is an important priority for our employees. We want to see Canada show global leadership on the transition to a cleaner economy and efforts to protect our climate."
— Ryan Holmes, CEO, Hootsuite
"Action to address climate disruption is important to maintaining a healthy and sustainable economy in Canada, and as business leaders, we have a crucial role to play in encouraging and supporting clear policy that addresses global realities now. For 30 years, Innergex Renewable Energy has been leading the transition to a low-carbon economy; we are proud to be a part of the solution to climate change. As such, we encourage the next Canadian government to prioritize strong climate policy, including investing in a clean energy grid to delivery the energy needs of tomorrow today."
— Colleen Giroux-Schmidt, vice president for corporate relations, Innergex Renewable Energy
"There is a clear and present danger to the quality of life of that Canadians enjoy. Through a focus on building a clean economy, we can navigate to a future that is both prosperous and sustainable. Deferring or diluting the actions necessary to achieve a low carbon economy is no longer an option."
— Patrick Nangle, CEO, Modo Co-operative
"Our mission at Nature's Path is to leave the Earth better than we found it. This was wisdom my dad passed along to me on the farm I grew up on and has been our rallying cry for more than 50 years. As a food company, we are gravely concerned about how climate change will affect our ability to grow healthy food for the generations who will follow us. Climate change is putting immense pressure on the availability, access, and stability of our global food supply chains. While agriculture accounts for close to a quarter of carbon emissions, if we manage our farmlands with regenerative organic practices, we have the potential to draw down almost a third of all the present carbon emissions now wreaking chaos on our planet."
— Arran Stephens and Ratana Stephens, co-CEOs, Nature's Path Foods
"Persephone Brewing urges the next government to enact a national climate plan that will put Canada at the forefront economically and environmentally in North America as well as preserve quality of life for future generations."
— Jenn Vervier, CEO, Persephone Brewing
"A strong climate plan is essential for the tens of  thousands of Canadian workers in film and television. Not only do we rely upon the natural beauty of our country to tell our stories, but key creative drivers such as directors and cast are choosing to shoot in areas with strong environmental practices. Industry standards now include sustainability, and our country must meet the test in order to participate."
— Pete Mitchell, president, Vancouver Film Studios
"Climate change is an issue that's top of mind for Canadians during this election. There is a significant opportunity for businesses and the country to build out the clean economy, to grow clean jobs, and to be global leaders on climate action."
— Karen Tam Wu, B.C. director, Pembina Institute; co-chair, Business Coalition for a Clean Economy
-30-
Download the letter and full list of signatories: pembina.org/pub/business-climate-letter
Watch a video about the Business Coalition: pembina.org/BCCE
Contact
Stephen Hui
Senior communications lead, Pembina Institute
778-987-7654
stephenh@pembina.org
Tw: @StephenHui
About the Business Coalition for a Clean Economy
The Business Coalition for a Clean Economy (BCCE), an initiative of the Pembina Institute, is a network of leading B.C. businesses and organizations aligned behind a vision for a clean and prosperous economy and climate action. We believe that strong climate and energy policy provides certainty and is good for business. Learn more: pembina.org/BCCE