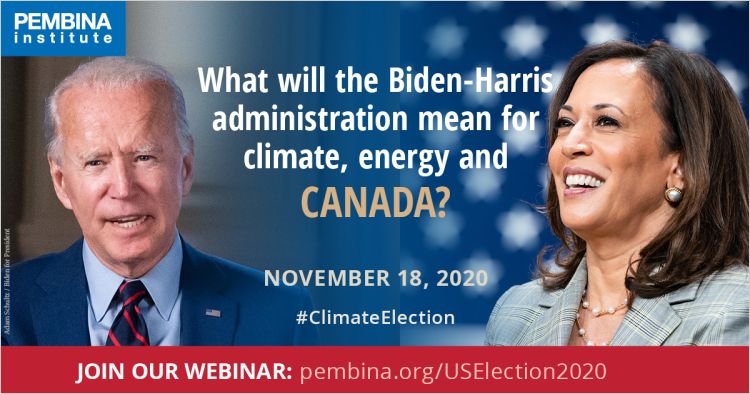 Update: The webinar has ended. Watch the video recording.
VANCOUVER / MUSQUEAM, SQUAMISH & TSLEIL-WAUTUTH TERRITORIES — The results of the 2020 U.S. election mean that Canada and the U.S. will once again be rowing in the same direction on the Paris Agreement and other climate and energy goals. Or will we?
On Nov. 18, two weeks after election day, the Pembina Institute is hosting a webinar on the implications of a new White House administration and Congress for climate change, energy, and Canada's net-zero emissions future.
This special one-hour event will feature a discussion with leading U.S.-based climate and energy experts from the Center for Strategic and International Studies and the Environmental Defense Fund.
The public and media are invited to attend online or by phone. Registration (free) is required.
Webinar: What will the Biden-Harris administration mean for climate, energy, and Canada?
Presented by the Pembina Institute
Date: Wednesday, Nov. 18 
Time: 11 a.m. PST / 2 p.m. EST
Speakers:
Sarah Ladislaw — senior vice president and director, Energy Security and Climate Change Program, Center for Strategic and International Studies (Washington, D.C.)
Mark Brownstein — senior vice president, energy, Environmental Defense Fund (New York, N.Y.)
Linda Coady — executive director, Pembina Institute (Vancouver, B.C.)
Sign up: pembina.org/USElection2020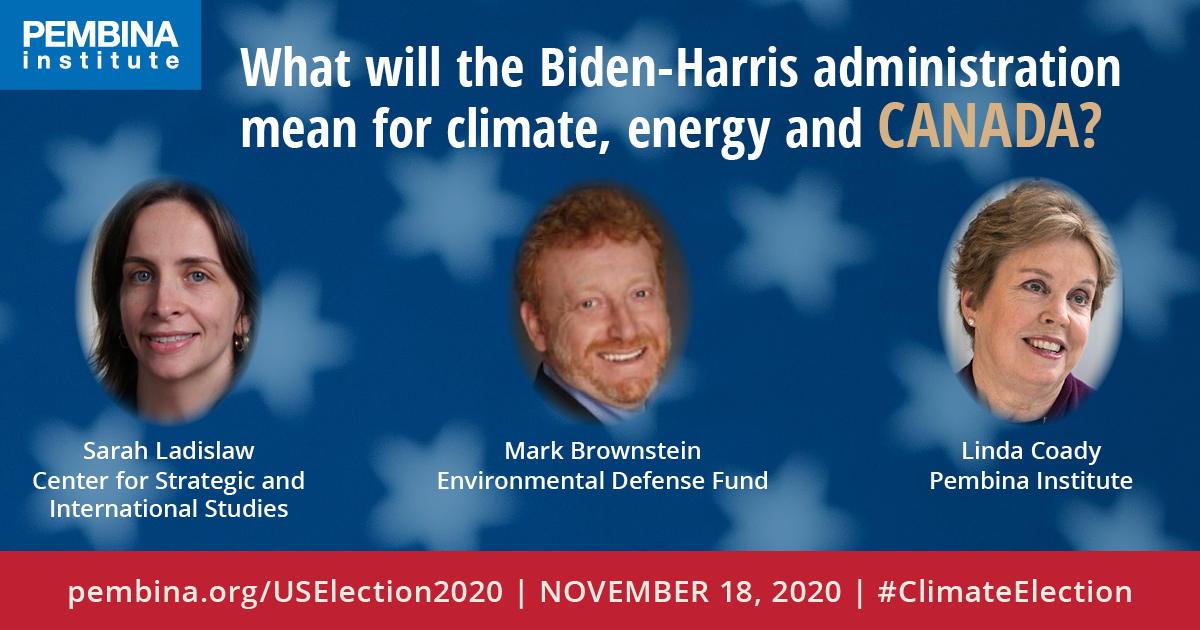 -30-
Join the conversation on Twitter: #ClimateElection @Pembina
Share the event on Facebook: facebook.com/events/898348167399490
Contact
Stephen Hui
Senior Communications Lead, Pembina Institute
778-987-7654
stephenh@pembina.org
Tw: @StephenHui
Background
Op-ed: Five ways a Biden administration would impact Canada and climate action
About the Pembina Institute
The Pembina Institute is a non-profit think-tank that works to advance a prosperous clean energy future for Canada through credible policy solutions that support communities, the economy, and a safe climate. We have offices in Vancouver, Calgary, Edmonton, Ottawa, and Toronto. Learn more: www.pembina.org