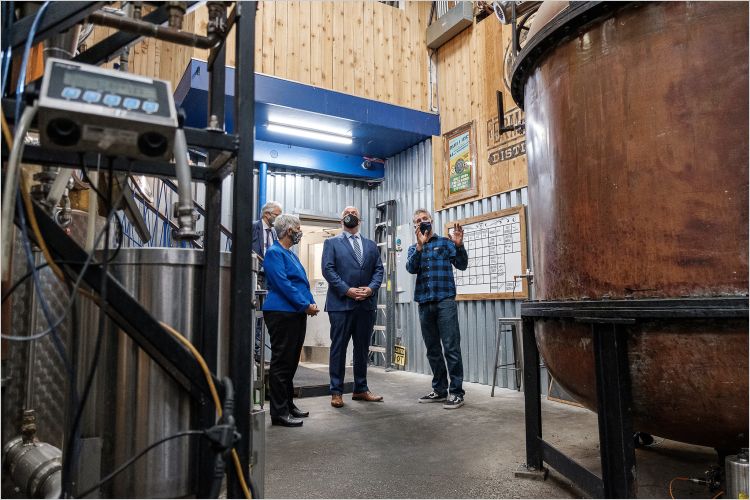 VANCOUVER / MUSQUEAM, SQUAMISH & TSLEIL-WAUTUTH TERRITORIES — Karen Tam Wu, B.C. director at the Pembina Institute, made the following statement in response to today's announcement of the B.C. government's economic recovery plan:
"We commend the B.C. government for continuing to take action to protect the health of British Columbians and stimulate the economy. A resilient and inclusive economic recovery from the COVID-19 recession must have investment in the clean future at its core. Today's announcement supports important climate solutions, but overlooks other key opportunities to build a resilient economy.
"We're pleased that the government is tackling carbon pollution from trucks, investing in safer walking and cycling infrastructure, and encouraging innovation in the clean-tech sector. We're also pleased to see funding targeted at the climate-related impacts facing our communities, with support for protective measures against wildfires and improvements to buildings and infrastructure to make them safer and more resilient in the face of climate and health-related emergencies.
"Increasing B.C.'s capacity to produce renewable fuels — from agricultural and forest waste, sewage, and other organic waste — is a priority that warranted investment. Setting a course for B.C. to be a leading supplier of renewable fuels would open up new markets and support local economic activity. More investment is necessary to reduce carbon pollution from homes and buildings and make them healthier places to live and work.
"We're optimistic that today's announcement is just the first of many funding injections for climate initiatives that create low- and zero-carbon jobs. To have any hope of flattening the carbon-pollution curve, we must see greater investment in the clean economy to secure a healthier, more resilient future."
Quick facts
Total spending in B.C.'s economic recovery plan: $1.5 billion
New spending on climate action in the plan: $220 million

Investments in reducing carbon pollution: $130 million
Investments in preparing for climate impacts: $90 million
-30-
Contact
Stephen Hui
Senior Communications Lead, Pembina Institute
778-987-7654
stephenh@pembina.org
Tw: @StephenHui
Background
Action plan: Rebuilding a Resilient B.C.
Submission: Accelerating B.C.'s economic recovery through building retrofits
About the Pembina Institute
The Pembina Institute is a non-profit think-tank that advocates for strong, effective policies to support Canada's clean energy transition. We have offices in Vancouver, Calgary, Edmonton, Toronto, and Ottawa. Learn more: www.pembina.org