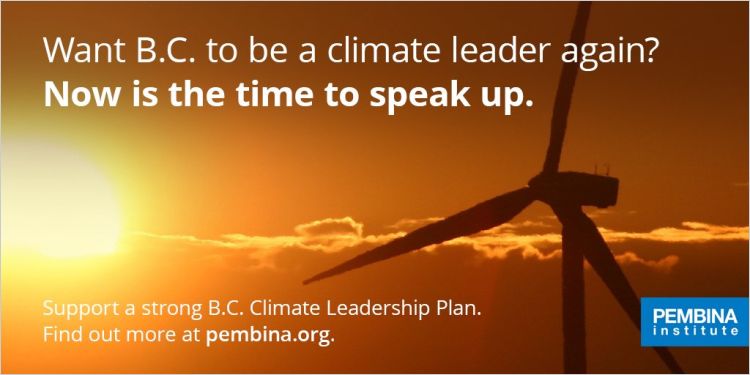 VANCOUVER — The B.C. government has not introduced any substantive new climate actions since 2012 and will fail to meet its legislated 2020 target for reducing carbon pollution. Meanwhile, Canada's government has promised to deliver strong action on climate change in the spirit of the Paris Agreement's renewed global momentum for addressing the crisis.
Ahead of next week's first ministers' meeting and GLOBE 2016 conference in Vancouver, the Pembina Institute is calling on the province to put forward a bold plan that will ensure B.C. contributes its fair share to national and global efforts to solve this pressing problem.
This week, the Pembina Institute released its formal submission for the second consultation period toward a new B.C. Climate Leadership Plan. At a minimum, the long-awaited plan must include a commitment to implement all 32 recommendations of the B.C. Climate Leadership Team. Strengthening the carbon tax is an essential part of this package.
As well, the Pembina Institute urges the province to go beyond the team's recommendations in four areas: the carbon tax, liquefied natural gas, methane emissions and land-use planning. Importantly, B.C. should not proceed with the development of an LNG industry unless the province can demonstrate a credible path to meeting its legislated 2050 emissions target.
The Pembina Institute is hosting a series of free webinars about the Climate Leadership Plan. The government is accepting public input until March 25.
Quick facts
B.C.'s carbon emissions in 2013: 64 megatonnes (Mt).
Projected B.C. carbon emissions in 2020: 69 Mt.
B.C.'s legislated emissions target for 2020: 43.5 Mt.
Quotes
"With the carbon tax frozen since 2012 and carbon pollution headed in the wrong direction in the province, the B.C. government risks being lumped in with the 'forces of no' on climate action. Only a bold Climate Leadership Plan can get B.C. back on the right track."
— Josha MacNab, B.C. Director, Pembina Institute
"B.C. is no longer able to meet its legislated emissions targets and has lost its status as a climate leader. The government must find the courage to say yes to an economy that will thrive in world moving away from fossil fuels."
— Matt Horne, B.C. Associate Director, Pembina Institute
"We urge the B.C. government to regain its former leadership role by adopting the Climate Leadership Team's recommendations, moving quickly to broaden the carbon tax, getting a handle on methane emissions and ensuring LNG development doesn't proceed in the absence of a credible plan to meet B.C.'s climate targets."
— Karen Tam Wu, Buildings & Urban Solutions Program Director, Pembina Institute
-30-
Download the paper: B.C. Climate Leadership Plan submission: Phase 2 consultation
Join the conversation on Twitter: #BCClimatePlan
Contact
Stephen Hui
Communications Lead, Pembina Institute
778-987-7654
stephenh@pembina.org
Background
Op-ed: Premier Clark: Join 'Forces of Yes' on Climate
Letter: Energy Forum letter to Premier Christy Clark on B.C. Climate Leadership Plan
Webinar series: What's needed for a strong B.C. Climate Leadership Plan?
Blog: Want B.C. to be a climate leader again? Now is the time to speak up