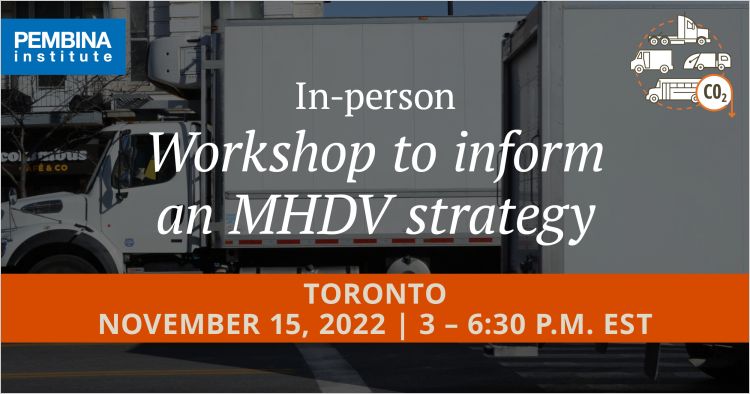 Toronto in-person workshop to inform an MHDV strategy Decarbonizing Canada's medium- and heavy-duty vehicles
---
Nov. 15, 2022

3:00pm - 6:30pm

EST
Northern Maverick Brewing Co, 115 Bathurst St.,, Toronto, ON
workshop
- Public event
---
In response to Canada's targets for 35 percent of new MHDV sales to be zero emission (ZE) by 2030 and near 100 percent to be ZE by 2040, the Pembina Institute has released foundational research on zero-emission MHDVs and preliminary policy recommendations for the federal government. By early 2023, the Pembina Institute will put forward a proposed comprehensive decarbonization strategy for MHDVs that builds on our preliminary findings.
We look forward to hosting an in-person workshop that brings together a diverse group of stakeholders to gather insights and feedback and help co-develop a strategy by spring 2023. The event is free, but please reserve your spot.
Cocktails and networking to follow.