The Pembina Institute's Medium- and Heavy-Duty Vehicle (MHDV) Strategy is about to move to Phase Two of its development process.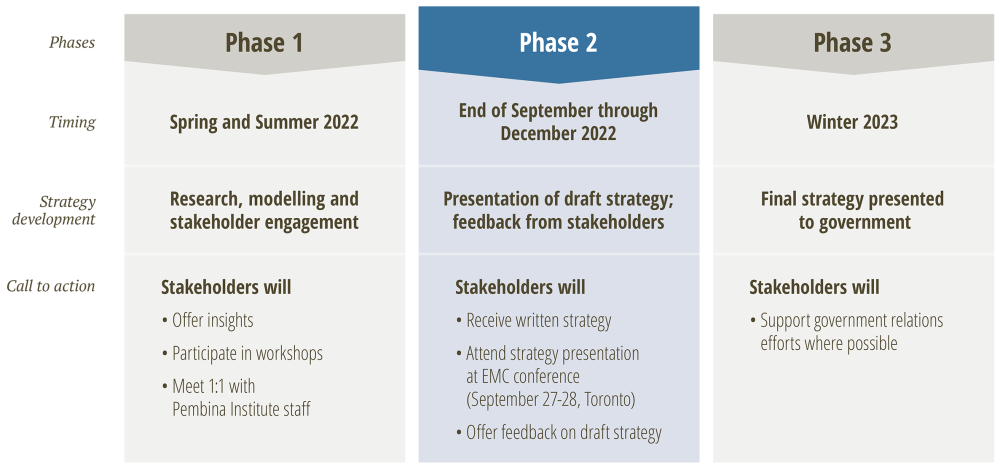 Emissions produced by MHDVs need to be a priority for Canada's climate ambitions—they account for approximately 35% of national transportation-related greenhouse gas emissions, the largest of any sub-sector. By 2030, freight emissions are expected to surpass passenger-vehicle emissions in Canada.
Canada needs a clear, comprehensive strategy for how it plans to reach new targets for 35% of new MHDV sales to be zero emission (ZE) by 2030 and near 100% by 2040, to ensure we are on track to meet our long-term climate goals.
But Canada, the provinces and municipalities lack a shared vision—a credible roadmap and investment strategy, as well as the policy coordination to accelerate transition at scale.
Without a strategy, Canada will have:
Low vehicle supply
Slow market transformation
And will find it impossible to meet decarbonization targets for the transportation sector and broader 2030 and 2050 climate targets
To avoid that outcome, throughout the end of 2022 and beginning of 2023, the Pembina Institute is developing a Zero-emission MHDV strategy that identifies the suite of policies, regulations, incentives, and investments needed to transition the MHDV sector to low- and no-carbon sources. This strategy will feed into the federal government's ongoing consultation process to identify an approach to reduce emissions from the sector.
Stakeholders for this strategy would come from these sectors: 
Our work
The Pembina Institute has been working on a transportation system free of carbon pollution for almost a decade. In the past few years, we have focused on the movement of goods. Here are some of our most important research reports on the subject.
The goods movement system
Electrification of goods movement
---
Modification of heavy-duty vehicles
---
Cities as partners
---
Zero-emission vehicles in action
---
Submissions to government
---
Sponsors
This work is supported by the Pembina Institute's Urban Delivery Solutions Initiative and: