The Pembina Institute's Medium- and Heavy-Duty Vehicle (MHDV) Strategy is about to move to Phase Two of its development process.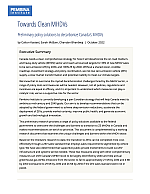 Read our draft recommendations now.
We will be looking for feedback on these recommendations from all stakeholders. You can also view the slides presented at the Electric Mobility Canada Conference on Tuesday, September 27, 2022, or review the detailed research that influenced these preliminary recommendations.
If you'd like to participate in the feedback process, please email Transportation Director Adam Thorn.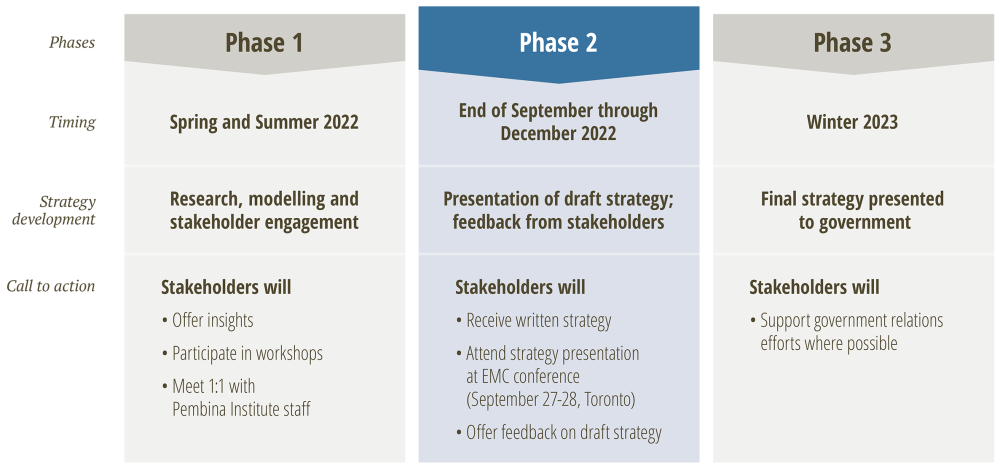 Emissions produced by MHDVs need to be a priority for Canada's climate ambitions—they account for approximately 35% of national transportation-related greenhouse gas emissions, the largest of any sub-sector. By 2030, freight emissions are expected to surpass passenger-vehicle emissions in Canada.
Canada needs a clear, comprehensive strategy for how it plans to reach new targets for 35% of new MHDV sales to be zero emission (ZE) by 2030 and near 100% by 2040, to ensure we are on track to meet our long-term climate goals.
But Canada, the provinces and municipalities lack a shared vision—a credible roadmap and investment strategy, as well as the policy coordination to accelerate transition at scale.
Without a strategy, Canada will have:
Low vehicle supply
Slow market transformation
And will find it impossible to meet decarbonization targets for the transportation sector and broader 2030 and 2050 climate targets
To avoid that outcome, throughout the end of 2022 and beginning of 2023, the Pembina Institute is developing a Zero-emission MHDV strategy that identifies the suite of policies, regulations, incentives, and investments needed to transition the MHDV sector to low- and no-carbon sources. This strategy will feed into the federal government's ongoing consultation process to identify an approach to reduce emissions from the sector.
Stakeholders for this strategy would come from these sectors: 
Urban delivery 
Transportation and logistics
Equipment manufacturing
Battery manufacturing
Transit and municipalities
Auto-manufacturing
Utilities
Electric vehicle supply equipment (EVSE)
School districts
Public health
Academia
Think tanks and environmental NGOs
Canada's commitments
2022 Emission's Reduction Plan
To reduce emissions from medium-and heavy-duty vehicles (MHDVs), the Government of Canada will aim to achieve 35% of total MHDV sales being ZEVs by 2030. In addition, the Government will develop a MHDV ZEV regulation to require 100% MHDV sales to be ZEVs by 2040 for a subset of vehicle types based on feasibility, with interim 2030 regulated sales requirements that would vary for different vehicle categories based on feasibility, and explore interim targets for the mid-2020s. (2030 Emissions Reduction Plan, p. 57)
12th Clean Energy Ministerial
The Canadian government announced intentions to pursue a global agreement to achieve 100 percent zero-emission MHDV sales between 2040 and 2050. (Global Commercial Vehicle Drive to Net Zero)
Our work
The Pembina Institute has been working on a transportation system free of carbon pollution for almost a decade. In the past few years, we have focused on the movement of goods. Here are some of our most important research reports on the subject.
The goods movement system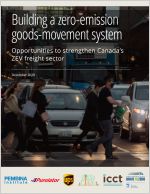 Building a zero-emission goods-movement system
Opportunities to strengthen Canada's ZEV freight sector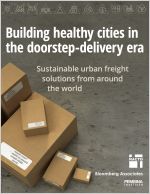 Building healthy cities in the doorstep-delivery era
Sustainable urban freight solutions from around the world
Electrification of goods movement
A guide to electrifying urban delivery fleets in Canadian cities
Why and how last-mile delivery companies should make the switch to electric vehicles
---
Modification of heavy-duty vehicles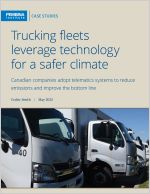 Trucking fleets leverage technology for a safer climate
Canadian companies adopt telematics systems to reduce emissions and improve the bottom line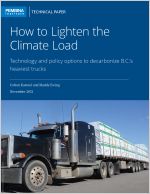 How to Lighten the Climate Load
Technology and policy options to decarbonize B.C.'s heaviest trucks
---
Cities as partners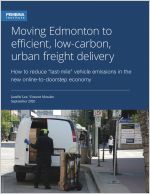 Moving Edmonton to efficient, low-carbon, urban freight deliverye
How to reduce "last-mile" vehicle emissions in the new online-to-doorstep economy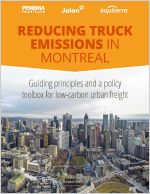 Reducing Truck Emissions in Montreal
Guiding principles and a policy toolbox for low-carbon urban freight
---
Zero-emission vehicles in action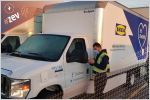 Flat-packing and ZEVs: IKEA helps consumers make low-GHG choices 
#ZEV-life: Stories from fleets making the switch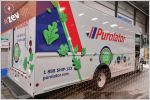 Purolator "steps up" to innovate for the climate
#ZEV-life: Stories from fleets making the switch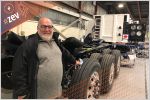 Clean garbage trucks? A municipality in Quebec is giving them a try
#ZEV-life: Stories from fleets making the switch
---
Submissions to government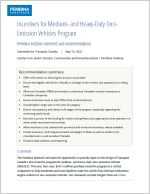 Incentives for Medium- and Heavy-Duty Zero-Emission Vehicles Program
Pembina Institute comments and recommendations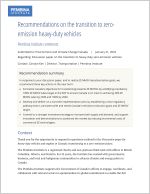 Recommendations on the transition to zero-emission heavy-duty vehicles
Submission to Environment and Climate Change Canada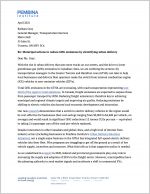 Municipal actions needed to reduce GHG emissions by electrifying urban delivery
Letter to municipal governments in the Greater Toronto and Hamilton Area
---
Sponsors
This work is supported by the Pembina Institute's Urban Delivery Solutions Initiative and: