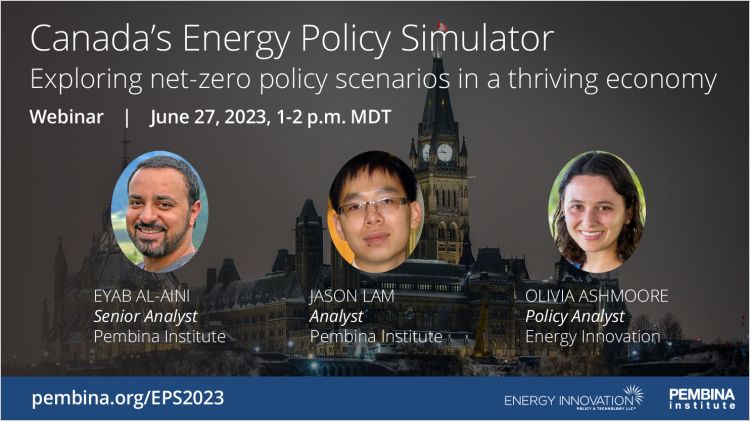 Energy Policy Simulator – Canada: Webinar 2023 Exploring net-zero policy scenarios in a thriving economy
---
Jun. 27, 2023

1:00pm - 2:00pm

MDT
webinar
- Public event
---
Update: The webinar has ended. Scroll down for the video recording.
More than 127 countries — including Canada — have proposed policies to meet their climate targets and grow the clean economy. The focus of these policies has expanded from centering solely around reducing emissions to growing a new clean economy. 
But policy choices should be tailored to the specific needs of each country. So, how do different policies impact emissions, energy, GDP and jobs?
The Energy Policy Simulator (EPS) is a free and open-source model funded by Natural Resources Canada. EPS – Canada was developed by the Pembina Institute in partnership with Energy Innovation Policy & Technology LLC®.
The EPS model aims to inform policymakers and regulators about which climate and energy policies will reduce greenhouse gas emissions most effectively, with the most benefit to Canada's economy and the best public health outcomes.
As a systems dynamic model, EPS reveals how different policy combinations interact. With a simple and easy to use web interface, the user has the flexibility to create, edit, and share a wide range of different policy options with flexibility to adjust the speed and scale of each policy from now to year 2050.
Join us for this webinar where you will have the opportunity to:
Learn how EPS can be used to build policy scenarios
Explore key insights on critical policies needed to achieve 2030 and 2050 targets
Gain an understanding of how different policies impact the clean economy
Watch the recording
For questions about the Energy Policy Simulator – Canada please email policysolutions@pembina.org